4.6 km round trip
Distance
This is a short trek that travels through a wondrous forest of cedar, hemlock and aspen, with views of Balmoral subdivision, Notch Hill and sprawling farmlands. This is a delightful, easy, end-of-day hike.
The Balmoral Lookout Loop presents viewing landscapes of hills and valleys.
The journey begins with a brief climb on a well-groomed trail, and within a couple of minutes you come to the first junction. Turn right to get on Lower South Trail.
A few minutes later, at the next intersection, turn right again. The grade now increases, taking you up a series of lengthy switchbacks for about five minutes.
After the switchbacks, the path levels, the views widen and you encounter yet another sign. At this point, Giant Tree Loop heads off to the right on an anything but giant diversion that's all of 81 m long. A fun detour to take if you want. The main trail continues straight.
After five minutes of level hiking, the path meets another sign, this one clearly directing you leftward to the Balmoral Viewpoint. You have now walked 1.25 km. Your options are to enjoy the view and head back down the way you came or enjoy the view and continue on an additional 3.35 km hike through a wonderful forest.
If you have chosen to continue, a few minutes up the trail brings you to a main intersection. Going to the right would place you on Upper South Trail to White Lake, while going left will put you on course to Blind Bay Lookout via Upper North Trail. Choose to go left. You have travelled 1.4 km.
Some 750 m of walking through this forest of many species brings you to a junction with a multi-purpose road. Turning right will connect you with Upper South Trail within a few short minutes.
Upon reaching Upper South Trail, turn right onto it and you are left with an easy 2.2 km downhill stroll to complete the loop back to the parking lot.
Directions
From the Trans-Canada Highway about 25 km west of downtown Salmon Arm, turn right onto Balmoral Rd. and drive 1.6 km to the Balmoral Trails parking lot.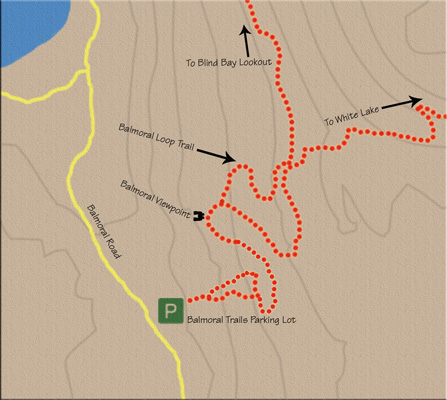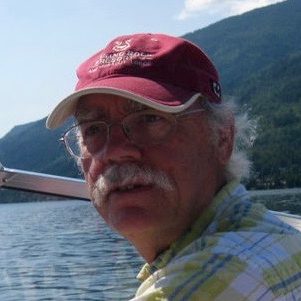 Gerry Shea
Gerry Shea lives in Kamloops with his wife and children and he is also the author of The Aspiring Hiker's Guide 2: Mountain Treks in British Columbia.