Nominal
Elevation Gain (m)
This short, easy hike takes place in a dark, cool canyon, providing a chilly retreat from the blazing sun of the Okanagan. With a one-way distance of 3.2 km and limited elevation gain, this hike can easily be done as a Through route. Alternatively, there is parking at both ends of the hike. This description is a round-trip hike starting and ending at the Star Rd. parking lot.
The exit out of the BX Creek canyon is augmented by a sturdy staircase.
1. Beginning at the Star Rd. parking lot, find the well-marked trailhead and begin trekking a wide, level path. Within five minutes you will come across a chain-link fence surrounding a portion of the creek to prevent wayward travellers from tumbling over a small man-made waterfall. This waterfall, spilling over concrete, is the overflow from the BX Creek sediment pond.
2. As the trail continues beyond this structure, it becomes narrow, rocky and rooty until it approaches an insignificant junction. Stay on the right-hand path. From here, the roots and rocks give way to a delightful dirt path which enters a dark, thick forest of cedar and hemlock. The path follows BX Creek all the way to the falls.
3. The trail takes occasional diversions over small bluffs, but for the most part it winds its way alongside the creek.
4. Just after the first kilometre, you come to the first of four or five bridges. Some of these bridges simply cross the creek from bank to bank, while others present stairways of landscaping ties at the opposite end.
5. At the 3 km point of the trek, the final upward stairway is a colossal achievement that rises skyward from the canyon floor. This effort takes you to fabulous viewing of BX Creek Falls.
6. If you are not yet tired of climbing stairs, there is another stairway that descends to the base of the falls for a superior view of the tumbling water exiting a chute.
Directions
Travelling north on 27th St. in Vernon, turn right onto 48th Ave. (which becomes Silver Star Rd. as it crosses Pleasant Valley Rd.). Drive 3.5 km to an intersection with Star Rd. Turn right on Star Rd. and drive 500 m to the parking lot, which will be on your right. An alternative parking lot is 2 km farther up Star Rd., with a turn right onto Tillicum Rd. This lot too is on the right.
Excerpt From: Gerry Shea. "Popular Day Hikes 3." iBooks.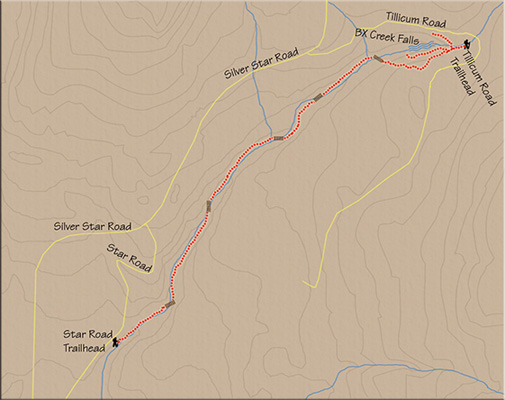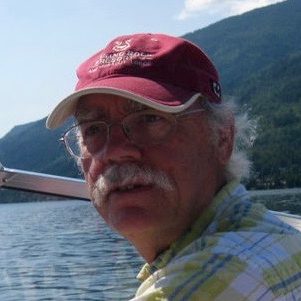 Gerry Shea
Gerry Shea lives in Kamloops with his wife and children and he is also the author of The Aspiring Hiker's Guide 2: Mountain Treks in British Columbia.