Eager Hills in the Cranbrook Community Forest is a great short hike year round. The grassland hills features views of the Rockies, Mount Fisher and The Steeples mountains. This image was taken in mid-winter, with alpenglow on the Rockies and a full moon.
Eager Hills used to be a fire lookout tower and it offers an amazing view of the Rocky Mountain Trench, Mount Fisher, The Steeples and the Rockies.
Hike east toward the Rockies on the old road 1.5 km to the scenic lookout. Another hike or bike ride heads west from the gated road at the parking lot. The road goes through forest and leads to other grassland view hills in about 2 km.
Directions
Road: any vehicle, but may be icy in winter for 200 m
0 km: In Cranbrook drive Cranbrook Street north and take the overpass turnoff to Highway 3/95 toward Fort Steele.
3.4 km: Look for a beige-yellow rock bluff on the north side of the highway. Turn left (north) at a small road at the base of the rock bluff. Heads steeply uphill, but suitable for any car (except in winter, park off the highway at the base of rock bluff).
3.5 km: Park in a spacious clearing just uphill from the highway.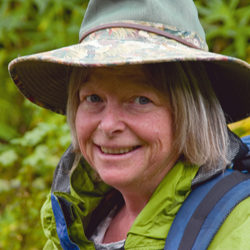 Janice Strong
Janice Strong is an established professional outdoor photographer. Her images grace collections all over the world and appear in many respected publications. She is passionate about hiking and is also an avid snowshoer and skier, exploring the outdoors of the East Kootenay in southeastern BC year round.
She openly shares her passion for the outdoors with others and has introduced hundreds of people to the joys of hiking. For a decade she led hikes for the City of Cranbrook – Parks and Recreation. With her guidance, many people have themselves become enthusiastic hikers.
Climbing mountains, finding new places and enjoying the experience of the journey have always been important to Janice. She cherishes the little things she sees along the trail, as well as the grand destinations.
When Janice is not writing, hiking or taking photographs, she is involved in various creative digital, website design or photographic projects for her clients. She and her husband, Jamie Levine, enjoy their rural property, near Cranbrook, BC.