This gem of a hike was bushwhacked, flagged and tagged by the owner–operators of the charming "Cozy Cabins Nature Resort" on Creighton Valley Rd. Over the past several years Harald and Kim Hatterscheidt have made a noble effort to mark nearby trails with proper signage and directions for the enjoyment of their guests as well as the local population. Their generosity, however, has been repaid with destruction and vandalism, as their signs have been removed from roadways and trails and their markers taken off of trees.
Watch your footing while exploring the Eagle Crest Cliffs. Many large boulders have separated, leaving shallow chasms behind.
The trailhead is easy to find. From the resort, walk down the road counting the power line poles until you reach the fourth one. The first pole counted is directly across the road from the resort. The trail is on the left and is marked with orange flagging. There is a 20 km marker on a tree on the opposite side of the road as well.
Directions
From the 4-way stop on Highway 6 in the gorgeous hamlet of Lumby, drive east for 1.7 km to Creighton Valley Rd. on the right (south) side of the highway. Travel Creighton Valley Rd. for 18.6 km to the Cozy Cabins Nature Resort on the right side of the road. Creighton Valley Rd. succumbs to gravel at the 7.4 km mark. Kim and Harald Hatterscheidt will graciously allow you to park your vehicle at their resort, but please ask their permission first. Alternatively, there is a parking pullout about 500 m down the road on the left.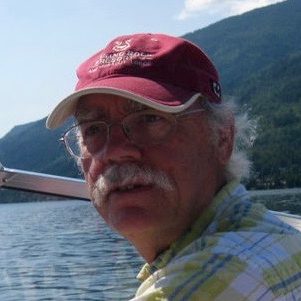 Gerry Shea
Gerry Shea lives in Kamloops with his wife and children and he is also the author of The Aspiring Hiker's Guide 2: Mountain Treks in British Columbia.