Findlay Falls are worth a stop on your way to Doctor Lakes. The short wide falls tumble about 6 m (20 ft.) over a rock rim into a deep smooth pool. On a hot day the rocky shore nearby may be a good spot for a picnic, and the calm pools of water may offer a refreshing swim.
The falls and the nearby forest are their best in springtime (May to early June), when the pine/fir forest around the falls is dotted with flowers and high water from winter runoff is at its fullest.
Directions
Road: any vehicle
On Highway 93/95, at 4.4 km north from the bridge over the Kootenay River at Canal Flats, the turnoff is left (west) at the middle of a long hill.
0 km: On Highway 93/95, turn left (west) off the highway, signed Blue Lake Forestry Centre, Findlay Creek FS Road. Climb out of the Columbia Lake Valley on a good gravel road.
2 km: Continue straight.
4.4 km: Findlay Falls trailhead, N54100-E81100, a large, flat BC Forest Service recreation site beside a busy logging road (just after 7 km sign). RV camping, no facilities.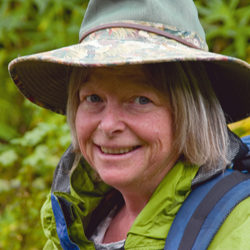 Janice Strong
Janice Strong is an established professional outdoor photographer. Her images grace collections all over the world and appear in many respected publications. She is passionate about hiking and is also an avid snowshoer and skier, exploring the outdoors of the East Kootenay in southeastern BC year round.
She openly shares her passion for the outdoors with others and has introduced hundreds of people to the joys of hiking. For a decade she led hikes for the City of Cranbrook – Parks and Recreation. With her guidance, many people have themselves become enthusiastic hikers.
Climbing mountains, finding new places and enjoying the experience of the journey have always been important to Janice. She cherishes the little things she sees along the trail, as well as the grand destinations.
When Janice is not writing, hiking or taking photographs, she is involved in various creative digital, website design or photographic projects for her clients. She and her husband, Jamie Levine, enjoy their rural property, near Cranbrook, BC.