Five Passes is a loop route that traverses the high ridges and passes around the Mause Creek and Tanglefoot Lake area with a high connection to the Sunken Creek trail. It is a nice long day hike and there is a lot of elevation change, both up and down, along the traverse.
This hike shows you more of the compact alpine typical of this region of the southern Rockies. The trail passes several tarns, follows the shore of Tanglefoot Lake and winds through alpine larch stands and along dry Douglas fir slopes. Climb alpine rubble and cross talus slopes on steep sidehills, and along the way spot Dibble Glacier, the tiny remnant of a glacier behind The Steeples. Seeing the distant view of Cliff Lake far below is another feature.
It is just nice to be up there on a remote trail joining familiar trails into one satisfying loop. Mountain routefinding and backcountry skills are important for this remote and unmaintained loop.
After reaching Dibble Pass, we headed to a pass overlooking Cliff Lake. While my friends sauntered up to a nearby summit five minutes away, I found a nice shady spot in which to enjoy a cool rest. A strong edgy feeling didn't allow me to doze for long; reluctantly I headed up to the peak. No sooner had I joined my companions than a huge black bear came right up to the spot where I had been resting just minutes earlier! I'm grateful I listened to my inner premonition and moved to the summit. The beautiful and shiny black bear heard and saw our large group, turned and headed back the way he had come. We named the pass Bear Pass in honour of the majestic creature.
Over the course of this memorable day we enjoyed a swim in one of the tarns, climbed over many passes, saw a glacier and a bear, endured the heat, crossed spongy meadows, hiked through forests, traversed rocky slides and had a wonderful day.
Cliff Lake is far below Windy Pass, with storm clouds over the Rockies in the background.
Trail
There really are six passes to cross, but for some reason people who talk about this interesting trail call it Five Passes. Maybe Five Passes trail sounds better.
0 km: Start at the Mause Creek trailhead (#36 Mause Creek Tarns) and hike up the trail to the mine site just after the third time you cross the creek.
1.8 km: For the Five Passes trail, almost directly across the road from the mine (a large tumbled pile of old wood and bits of metal), look southwest across a brushy meadow for a faint trail, N96196-E11048, at 1960 m (6,434 ft.). There is a faded orange marker on a tree at the trail junction.
2.7 km: Leave the Mause Creek road/trail and follow this trail across the meadow and diagonally across the slope up to the first pass, Horseshoe Pass, N95769-E10355. Then descend 500 m (1,700 ft.) to Sunken Pass, N94288-E10603, then down steeply to Sunken Creek trail.
5 km: From Sunken Pass descend east on a trail and join up with the Sunken Creek trail, N94158-E11164, at approximately 1554 m (5,100 ft.) (Entry #38). Sunken Creek trail is well-used. It gradually gains elevation and generally heads east. Keep climbing for about 2 km and reach the abandoned Dibble Mine site, which has all but disappeared. Keep climbing until you reach Dibble Pass, N94007-E14412.
9.9 km: Follow the ridge north from Dibble Pass and climb to Bear Pass, N94498-E14509. Drop off the northwestern edge from Bear Pass and hike on loose talus slope until you connect with trail heading northwest down into an alpine basin. (You will see Cliff Lake, the long, narrow, deep-blue lake a couple of kilometres to the north and below you.) After crossing the smooth basin, begin to climb again to Windy Pass, N95465-E14063, up a moderate slope of broken shale and between clumps of alpine wildflowers. Small creeks trickle down the slopes and you are entering a moister climate than on the Sunken Creek side.
11.8 km: Windy Pass is above scenic Tanglefoot Lake. Follow the trail down to the lakeside.
14.7 km: Tanglefoot Lake is a great place to enjoy the flowers and larch trees or just have a rest. There is only one pass left to climb. Follow the trail to the northwestern edge of the lake and cross a tiny creek on flat boulders. The worn trail bends around to the south and ascends a steep gully. From the gully the trail bends west and up the talus of a rugged sidehill. See Tanglefoot Lake.
15.3 km: Reach Tanglefoot Pass, N96437-E12080, and descend on the well-worn trail to Mause Creek Tarns.
18.5 km: Hike down the trail to the vehicles.
Directions
Road: high-clearance truck or 4x4 to the Mause Creek trailhead
Follow the directions for Mause Creek Road. Park at the Mause Creek trailhead.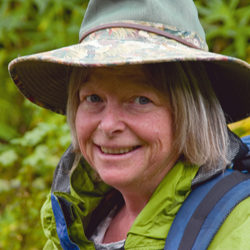 Janice Strong
Janice Strong is an established professional outdoor photographer. Her images grace collections all over the world and appear in many respected publications. She is passionate about hiking and is also an avid snowshoer and skier, exploring the outdoors of the East Kootenay in southeastern BC year round.
She openly shares her passion for the outdoors with others and has introduced hundreds of people to the joys of hiking. For a decade she led hikes for the City of Cranbrook – Parks and Recreation. With her guidance, many people have themselves become enthusiastic hikers.
Climbing mountains, finding new places and enjoying the experience of the journey have always been important to Janice. She cherishes the little things she sees along the trail, as well as the grand destinations.
When Janice is not writing, hiking or taking photographs, she is involved in various creative digital, website design or photographic projects for her clients. She and her husband, Jamie Levine, enjoy their rural property, near Cranbrook, BC.