3–4.5 km round trip, depending on route chosen
Distance
66–161 m, depending on route chosen
Elevation Gain (m)
This easy hike presents remarkable vistas of Salmon Arm, Shuswap Lake, Mount Ida and the Salmon River Valley. There is an optional, nearly vertical climb which can transform this route into a moderately Difficult one.
A small stream crosses the road as it makes its way to the Salmon River Valley.
The way is not hard to find. The trail is a continuation of the forest service road, but it has been closed to motorized traffic (other than snowmobiles). Immediately into the hike the scenery will captivate you. You have already driven a substantial ascent, so seeing views that would normally require countless switchbacks becomes effortless.
Within 10 minutes you cross a small stream, and shortly after that there is an intersection where one road departs downhill to the left. You want to stay up high, so continue on the right fork.
After another 10 to 15 minutes of mild elevation gain the trail comes to a large clearing that generally acts as the vantage point for most sightseers. This green clearing is 1.5 km from the parking lot.
There are now a few options: You can take some amazing pictures and then turn around and head back to your vehicle.
For better viewing and to get some exercise, you can find the narrow, very steep trail on the back side of the clearing and climb for 5–10 minutes to reach a level stretch on the path.
Beyond the level section you can climb an awfully vertical section that lasts for another 5–10 minutes before popping out onto the forest service road. You can turn right to complete a loop trip, ambling downhill for 2.2 km to the parking lot.
Directions
Getting to the trailhead is more difficult than the trek itself in this instance, so here are step-by-step directions.
Travelling west on the Trans-Canada Highway from Salmon Arm, turn left on Salmon River Rd. about 3–4 km from downtown. Salmon River Rd. quickly becomes 10th Ave. SW. As it makes a sharp left turn the road becomes 50th St. SW. Very shortly after driving down 50th St. SW, turn right onto 13th Ave. SW (also known as Christison Rd.). Continue on this road for 1.3 km and turn left onto 5th Ave. After a brief 300 m on 5th Ave., turn left onto 60th St. In 700 m 60th St. will become 15th Ave. SW as it takes a 90° right turn. A little more than a kilometre later the road becomes Fly Hills FSR 170. Pavement soon gives way to gravel and 1 km later you'll see the parking lot on the left.
Now, the last time I drove this route (autumn of 2012), there were nice big, brand-new blue signs, with images of snowmobiles, directing traffic to the Fly Hills Recreation Area. This approach route would be much easier if those signs were permanent, but they weren't there in the spring of 2012 or 2011, so they may be only temporary in preparation for snowmobile season.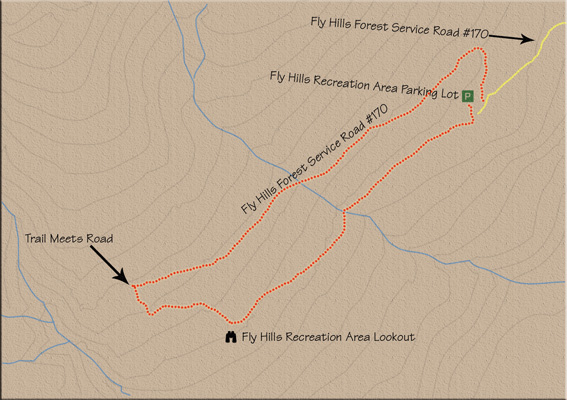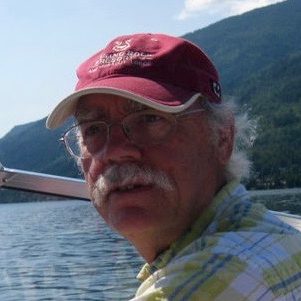 Gerry Shea
Gerry Shea lives in Kamloops with his wife and children and he is also the author of The Aspiring Hiker's Guide 2: Mountain Treks in British Columbia.