Although this is a relatively long hike, it has a comfortable degree of elevation gain. There is only 445 m difference from the trailhead to the campground. In fact the first 11.6 km is a flat meander through an uncluttered forest of lodgepole pine with scarcely any change in elevation. The Upper Fryatt Valley is a short 5-km day hike from Brussels Campground and is an exquisite land of pools, streams, vanishing rivers, tarns, meadows, glaciers, snow, subalpine forests and waterfalls that encourage showering. There is so much to see here and yet it is compressed into a short, tidy hanging valley. This hike may not the longest in this guide, but it presents a true remote backcountry experience.
Leaving the Geraldine Lakes parking lot, follow a trail into an open forest of pine skirting the west shore of the Athabasca River. This delightful walk wanders for 11.6 km until reaching the inconsequential Lower Fryatt campground. Parks Canada allows the use of bicycles for this first stretch, because of the length of the trail and the lack of elevation change. Before arriving at the Lower Fryatt campground, the trail crosses the Geraldine Lakes outlet stream at kilometre 2 and a mound of glacial till overlooking the Athabasca River at kilometre 8. Glacial till is a heterogeneous mixture of clay, sand, gravel or boulder-size particles deposited beneath and within glacial ice. Looking southeast from here you'll see a magnificent panorama of Mounts Christie and Brussels.
After crossing Fryatt Creek at Lower Fryatt Campground the path now begins to climb somewhat steeply upward through an increasingly thinner forest of subalpine growth. The grade ascends for 4.2 km acquiring 325 m before finally diminishing at the Fryatt Creek Bridge at kilometre 15.8. At this point, the wonder of this place on earth begins to unfold as the first sights of the Fryatt Valley begin to appear. The vast openness of the valley upon exiting the confines of the forest is unexpected yet welcome. Stick to the trail by following cairns and well-placed rocks in the stream to reach Brussels Campground 1.3 km up the valley.
Exploring this valley as well as the Upper Fryatt eliminates any hesitation about making this long voyage. Leaving the campground, climb over a small alluvial fan and descend slightly to reach Fryatt Lake. This is a beautiful place to just sit and relax. Spaces like this are rare and not usually encountered in our daily lives. Take as much time as needed here; all you have here is time and beauty. Just beyond the lake is a limestone rock wall called the Headwall. Fryatt Creek falls over the headwall to feed Fryatt Lake. To explore the Upper Fryatt Valley, climb the excruciatingly steep headwall, gaining 200 m in less than a kilometre. At the top of the headwall the upper valley opens up as you hike past the Alpine Club of Canada's Sydney Vallance Hut.
History
Fryatt valley, creek and mountain were named after Captain Charles Algernon Fryatt (1872–1916) by the Alberta-British Columbia Boundary Commission. Brussels Campground and nearby Brussels Peak take their names from the Great Eastern Railway steamer Brussels, which was under Captain Fryatt's command. The Brussels was an unarmed merchant ship that made regular runs on the Rotterdam/British East Coast route during the First World War and was very successful in eluding the Germans.
On two occasions, March 3 and March 28, 1915, Captain Fryatt avoided attack by German U-boats. In the latter incident, he was able to attempt to ram the submarine as it surfaced to line up a torpedo on the Brussels. The U-boat was forced to dive, narrowly averting a collision. Captain Fryatt reported, "You could have easily hung your hat on the periscope as she lay alongside us." Fryatt was awarded a gold watch for each of his encounters with the submarines.
However, 15 months later, on June 23, 1916, his luck ran out as he was surrounded and captured by a convoy of German torpedo boats. In Bruges, Belgium, on July 27, 1916, Captain Fryatt was tried, found guilty of being a franc-tireur, or unlawful combatant, and executed later that evening, having written a farewell letter to his wife and six children.
Directions
Drive south on Highway 93 (Icefields Parkway) for 32 km from Jasper to the Athabasca Falls turnoff. After turning right onto Highway 93A, continue for 1.2 km to the Geraldine Lakes road. Another 2.1 km and this gravel road will arrive at the trailhead for Fryatt Valley.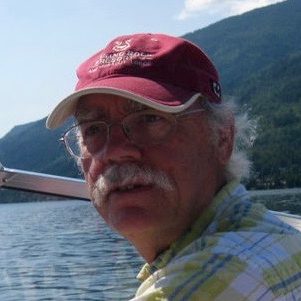 Gerry Shea
Gerry Shea lives in Kamloops with his wife and children and he is also the author of The Aspiring Hiker's Guide 2: Mountain Treks in British Columbia.