Gold Run Lake is a serene, blue-grey lake near the end of Perry Creek. This short hike is a fine place to bring the family for a day of fishing or relaxing. Whistling marmots chirp at dusk, their penetrating tones bouncing off the lakeside talus. In midsummer, the dark forest of mature fir and spruce are brightened by flowering stalks of metre-high beargrass.
This one-hour hike stays in the forest, on a path that is in good condition and easy to follow. About halfway to Gold Run Lake, stop and enjoy a tranquil meadow with a creek gracefully flowing through its moist grasses. Gold Run Lake, N74100-E59200, is at 1860 m (6,100 ft.).
The name "Gold Run" derives from the bedrock gold found in the mountains between Hells-a-Roaring Creek (the old name for Hellroaring) and Perry Creek. For more on the century of gold mining in the Perry Creek and Wild Horse Creek area (by Fort Steele), see the introduction.
Further explorations
Richmond Lake to Gold Run Lake (or reverse direction)
For a satisfying day hike combine this trail with a mountain traverse over to Richmond Lake. It is an 8-km, moderate, routefinding hike, with some easy scrambling over the summit of Nogalski Peak and connecting to Perry Pass trail, see #29 Richmond Lake to Gold Run Traverse.
Routes: Perry Pass, Hellroaring Lakes, Mount Flett
The Perry Pass horse trail was built a hundred years ago primarily for access to gold exploration, but today it provides hikers a recreation corridor to the Perry Creek area of the southern Purcell Mountains.
Gold Run is just the starting place for the Perry Pass connector into Hellroaring Creek. The Perry Pass trail has recently been upgraded into a large road, likely drivable beyond the Gold Run trailhead. To reach Perry Pass, bushwhack up the semi-open forested slope north from the shore of Gold Run Lake, an elevation gain of 30 m (100 ft.). Intersect with a new road.
On the new road, turn west (left) toward Perry Pass, N74400-E58600, at 1990 m (6,540 ft.). At the time of this writing, the trail appeared to dip down the sidehill into Hellroaring Creek. It may or may not be changing with the new building of roads in the area. At Perry Pass head left downhill (southwest) toward Kamma Pass, N74000-E56800. Descend 210 m (700 ft.) to the base of a steep, rocky cliff. The route climbs back up to Kamma Pass, another 80 m (260 ft.), 1860 m (6,100 ft.).
To reach the first subalpine Hellroaring Lake, elevation 1981 m (6,500 ft.), N74400-E56300, bushwhack about 1 km west from Kamma Pass by keeping about the same elevation, just slightly north (right) of the ridge. A second lake is 500 m farther west, upslope from the first lake.
To climb Mount Flett, 2408 m (7,900 ft.), N76100-E56300, hike north from either lake and bushwhack another 2.5 km heading north to the ridge and across alpine basins. Once on the ridge, follow the broken rock and talus spine over rough terrain to the summit.
Just imagine what this area was like for packhorses and people when they built these trails in 1900!
Perry Pass to Hellroaring Lakes and Mount Flett
Rating: moderate no trail
Time: day hike
Distance: 4 km from Gold Run Lake to Kamma Pass, plus 1.5 km to Hellroaring Lakes
Elevation gain: 293 m (960 ft.)
Perry Pass: 1990 m (6,540 ft.)
Kamma Pass: 1860 m (6,100 ft.)
Hellroaring Lakes: 2000 m (6,600 ft.)
Mount Flett: 2408 m (7,900 ft.)
Map: 82F/8 Grassy Mountain (NAD27)
Trail: variable conditions; north section may be overgrown; routefinding to subalpine lakes; alpine walk on ridge and alpine basins to Mount Flett
Directions
Road: high-clearance vehicle for final 4 km
For detailed road directions for Perry Creek, see Perry Creek FS Road earlier in this chapter.
28.5 km: On Perry Creek Road (27 km sign) cross Galway Creek bridge. After bridge take the right fork downhill to Richmond Lake. In 200 m cross Perry Creek bridge. The road quickly deteriorates and may not be passable when wet. High-clearance.
33.8 km: At second switchback, park at Richmond Lake (past 32 km sign), N73600-N60200, at 1665 m (5,470 ft.).
34.3 km: Continue around the switchback and in 500 m is the Gold Run Lake trailhead.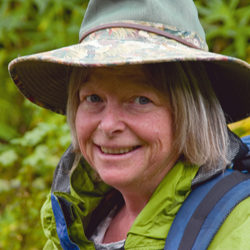 Janice Strong
Janice Strong is an established professional outdoor photographer. Her images grace collections all over the world and appear in many respected publications. She is passionate about hiking and is also an avid snowshoer and skier, exploring the outdoors of the East Kootenay in southeastern BC year round.
She openly shares her passion for the outdoors with others and has introduced hundreds of people to the joys of hiking. For a decade she led hikes for the City of Cranbrook – Parks and Recreation. With her guidance, many people have themselves become enthusiastic hikers.
Climbing mountains, finding new places and enjoying the experience of the journey have always been important to Janice. She cherishes the little things she sees along the trail, as well as the grand destinations.
When Janice is not writing, hiking or taking photographs, she is involved in various creative digital, website design or photographic projects for her clients. She and her husband, Jamie Levine, enjoy their rural property, near Cranbrook, BC.