Variable
Elevation Gain (m)
Haystack Lake is a deep subalpine lake about 1 km long, an oval-shaped basin of blue-grey clear water at the headwaters of Meachen Creek. Haystack Mountain has a conical profile that guards the south end of the lake.
The path to Haystack Lake does not gain much elevation and is not steep. Most of the lake is obscured from view by the thick forest and a tangle of downed trees along the lakeside route. You have to hike to about halfway along the lakeshore for a good view of Haystack Mountain and the lake. It is worth it.
A new trail to Upper Haystack Lake branches from the main track and is more scenic. It winds its way through open avalanche slopes carpeted with low-growing plants, including metre-tall stalks of flowering beargrass. The north side of the creek is a more enjoyable hike than the old trail to Haystack Lake.
This new trail does not reach the shores of Haystack Lake, but contours above it and gains elevation to Upper Haystack Lake. This smaller, 500-m diameter, circular, subalpine lake, at 2070 m (6,800 ft.), is below the slopes of dark-grey unnamed summits. A third lake, at 2225 m (7,300 ft.), is a bushwhack hike through forest for about 500 m and gains another 137 m (450 ft.).
Another option in the Haystack area is the Sanca Pass trail. It was built for mining access over a hundred years ago to reach Kootenay Lake from the headwaters of Meachen Creek. The old Sanca Pass trail remains a hiker access for about 2.5 km. It branches south from the Haystack Lake trail to Sanca Pass and is an access to tiny Carrot Lake. South of Carrot Lake the historic trail is mostly overgrown. For more on the mining history of the southern Purcells and Wild Horse River, see the Introduction.
The Sanca Pass trail enters Kianuko Provincial Park, which is between the headwaters of Goat River, Sanca Creek and Meachen Creek. It is a wilderness park, primarily set aside for caribou habitat.
Upper Haystack Lake – New Trail
If you want to do both hikes in a day, backtrack on the trail from Haystack Lake for about 800 m to continue your hike to Upper Haystack Lake. At the north end of the lake at the outlet creek, we scouted around for a place to cross the medium-sized Meachen Creek.
About 800 m back along the trail, head toward the creek across and unmarked flat meadow. There is a good bridge in the middle of nowhere, with no trails joining either end, N81837-E35295. (It must be a winter crossing for snowmobiles.) Cross to the north side, where the land is boggy. Make your way up the wet section and in 300 m intersect with a wide, well-made trail. Turn left to Upper Haystack Lake and follow directions from 2.3 km.
Sanca Pass and Carrot Lake
The Sanca Pass trail heads south from the junction with Haystack Lake trail. Climb 45 m (150 ft.) to Sanca Pass, a low, forested, wide pass. Nothing is left today of the historic use of this trail and it only goes a few kilometres. To read more see this historical information.
Carrot Lake is a small lake about 1.5 km wide on a good trail that gains 120 m (400 ft.) higher than Sanca Pass, N79700-36000. For a good view of the surrounding region, watch on the left side after crossing the creek at Carrot Lake. Head away from the lake, following old blazes, up switchbacks to a 2133-m (7,000 ft.) pass. The semi-open-forested route gains 305 m (1,000 ft.).
Rating: moderate
Time: day hike
Maps: 82F/7 Boswell (NAD27); 82F/8 Grassy Mt.; 82F/9 St. Mary Lake (NAD27)
Trail map
Haystack Lake
Distance: 3 km
Elevation gain: 180 m (600 ft.)
Haystack Lake: 1860 m (6,100 ft.)
Trail: Entire trail in forest gradually gains elevation to medium-sized subalpine lake
Upper Haystack Lake – New Trail
Distance: 4.3 km
Elevation gain: 335 m (1,100 ft.)
Upper Haystack Lake: 2070 m (6,800 ft.)
Trail: wide trail in forest and open alpine good views. One bridge crossing. Trail indistinct in forest from 3 km to lake.
Drive
Road map. See also the detailed map of the Meachen, Creek Perry Creek and Moyie River roads
Road: high-clearance vehicle after Houglass Lake trailhead
Follow detailed road descriptions on the St. Mary, Dewar and Meachen Creek roads. The last several kilometres have been improved and you can now drive about 3 km past the Hourglass Lake trailhead.
Trail to Haystack Lake – Old Trail
0 km: The trail is a continuation of the road.
400 m: Trail forks. (The right branch is a new trail that heads downward and crosses Meachen Creek on a bridge; see below.) The left fork is the old trail to Haystack Lake. It gains elevation gradually in the mature forest of spruce and fir, heading southwest.
1.6 km: Junction with Sanca Pass trail to Carrot Lake, N81400-E35800, at 1780 m (5,850 ft.); see below. Continue west on the main trail across the tiny creek toward the tumbling sounds of the main Meachen Creek, (northwest). The trail climbs with the creek on your right.
3 km: Haystack Lake. The route along the lake is tangled and not easy to move through. After about 400 m of bushwhacking, you reach the best view of the lake and Haystack Mountain.
Upper Haystack Lake – New Trail
0 km: Haystack Lake main trailhead.
400 m: Take right fork downhill and cross a bridge. Trail winds in the forest and gradually heads into open alpine at the base of steep mountain slope.
2.3 km: Continue straight on the main trail for Upper Haystack Lake, but note there is well made bridge just down slope of N81837-E35295 where you may cross Meachen Creek to reach Haystack Lake.
3.1 km: The trail to Upper Haystack Lake is indistinct for about half a kilometre from N81765-E34766 to approx. N81665-E34477, (beyond the private property cabin). From the cabin in the forest, don't follow the track down to the lakeshore, but instead hike uphill (south) and edge along the base of a white rockslide. Keep in the forest and south to reach an open grassy avalanche slope with good views of Haystack Lake and Haystack Mountain. Gaining elevation slightly, hike across the avalanche slope and find flagging tape leading to the continuation of the trail in the forest. Then the rest of the trail to the Upper Lake is rarely used but can be followed with a bit of attention.
4.3 km: Upper Haystack Lake, N81400-E33480, at 2070 m (6,800 ft.).
Directions
Road Directions to Perry Creek FS Road
Road access for hikes:
Perry Creek Falls
VOR Tower
Richmond Lake
Gold Run Lake
Richmond to Gold Run Traverse
Maps: 82G/12 Cranbrook (NAD83); 82F/8 Grassy Mt (NAD27); 82F/9 St. Mary Lake (NAD27)
From Cranbrook, turn off Highway 3/95 at the stoplight, King Street NW and 9th Avenue. Follow this paved road northwest for 12 km. Turn left (west) at the Wycliffe Regional Park sign onto the good gravel of Perry Creek FS Road. (King Street NW is the name in Cranbrook; when the road gets to Perry Creek it is called Wycliffe Road.)
Perry Creek Road is a busy logging route; watch for loaded logging trucks barrelling down some of the narrow winding hill stretches. The road may be driven by most sturdy cars or almost any vehicle except for the last several kilometres.
Road map. See also the detailed map of the Meachen Creek, Perry Creek and Moyie River roads; for Richmond and Gold Run trail maps, see #27 Richmond Lake.
Road: high-clearance for last several kilometres before Richmond Lake trailhead.
0 km: Wycliffe Road and Perry Creek Road.
3.5 km: Perry Creek main road left fork (to the right is St. Mary River Road).
5.3 km: Cross Perry Creek right branch.
10 km: Perry Creek Falls, see entry #25; parking, N89357-E73182 (400 m before 8 km sign).
To find the Perry Creek Falls parking spot, look for a wide pullout on the right (near the 8 km sign), which is just after the Perry Creek FS road climbs a steep grade and levels off. The parking is at the junction with another road that branches off to the right.
From the parking spot hike about 200 m farther along the Perry Creek FS road; the trail begins on the left on a small gated road.
13.3 km: Continue up the main Perry Creek FS road for Richmond and Gold Run lakes. At the four-way intersection, take the left fork, Perry Main, for Richmond and Gold Run Lakes (11 km sign). For the VOR Tower, continue straight onto Sawmill Creek Road. See #26 VOR Tower.
15.1 km: Turn right (14 km sign).
17 km: Historic Steamshovel remnants only, see the introduction for more on this relic. Roadside stop (16 km sign), with ruined cabin on right side of road. Perry Creek is close beside the road on your left.
20 km: Take the smaller road straight ahead (right branch), N83935-E67322.
25 km: At 23 km sign, turn left and cross Perry Creek bridge.
28.5 km: At 27 km sign, cross Galway Creek Bridge. After the bridge, take the right fork downhill to Richmond Lake and in 200 m cross Perry Creek Bridge. The road quickly deteriorates and may not be passable when wet. Alders now crowd onto the road surface, 2010 and the road may soon be overgrown.
33.8 km: At second switchback, parking for Richmond Lake at a graded pullout (past 32 km sign), N73639-N60247, at 1665 m (5,470 ft.).
34.3 km: Continue around the switchback and in 500 m is the Gold Run Lake trailhead.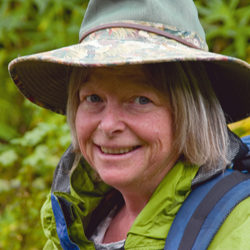 Janice Strong
Janice Strong is an established professional outdoor photographer. Her images grace collections all over the world and appear in many respected publications. She is passionate about hiking and is also an avid snowshoer and skier, exploring the outdoors of the East Kootenay in southeastern BC year round.
She openly shares her passion for the outdoors with others and has introduced hundreds of people to the joys of hiking. For a decade she led hikes for the City of Cranbrook – Parks and Recreation. With her guidance, many people have themselves become enthusiastic hikers.
Climbing mountains, finding new places and enjoying the experience of the journey have always been important to Janice. She cherishes the little things she sees along the trail, as well as the grand destinations.
When Janice is not writing, hiking or taking photographs, she is involved in various creative digital, website design or photographic projects for her clients. She and her husband, Jamie Levine, enjoy their rural property, near Cranbrook, BC.