The situation was out of control before we even started. Although experienced day hikers, seven women had never ventured out on an overnight backpacking trip and I was their experienced guide.
In the pre-hike meeting, I mentioned dehydrated foods, but they wouldn't hear of it. "Fresh food is too heavy to carry," I droned, my voice cracking among their excited chatter. Instead, everyone offered to carry elaborate gourmet meals up a steep rough trail into the mountains.
Sheepishly everyone refused to weigh their packs. Cumbersome bundles swelled with gear and extra bags dangled on the outside. Pack zippers weakened under the tension.
"What's in this lumpy stuffsack?" I asked as I lashed an unwieldy and slippery burden onto one pack. "Oh, homemade bread," Pat said proudly. We carefully secured three perfect loaves of bread and four dozen dinner rolls in a plastic bag to the outside of her pack. All these women somehow staggered under similarly exaggerated, hefty loads.
It was a scorching hot day, and up the steep forested trail no breeze pushed the heavy air. While the sun baked the ground between the trees, a muggy humidity caused many of us to overheat. We watched each other for signs of heat exhaustion and took many rest breaks. It took our weary group much longer than normal to stumble into the campsite.
We tossed bulging sacks of gear on the ground and set up camp. The next morning, the seven women studied our cache and estimated the weight for just food was over 90 kg (200 lb.). Our hike was only three days long. We ate gourmet meals with a flair of unparalleled five-star dining, high in the remote mountains. "For our next trip," someone wisely suggested, "how about instant porridge and fruit leather?"
Lake of the Hanging Glacier in autumn with golden larch trees in the foreground.
Trail
0 km: Trailhead parking at a BC FS recreation site at the end of Horsethief Creek Road. The trail clings around several road washouts and heads along the old road for about 30 minutes. Then follow the steep path up through dense alder thickets.
2.5 km: Cross a footbridge over aptly named Hellroaring Creek. The metre-deep torrent crashes down a steep slope. Volunteers remove the bridge in autumn and replace it again every July. It used to be washed out every year in spring runoff.
2.8 km: Signed trail junction. Horse riders go straight ahead and hikers take the sharp left turn downhill.
3 km: Cross the bridge spanning Horsethief Creek. Take the right fork immediately after the bridge. The trail then travels through avalanche paths and around debris, with the creek on your right.
4 km: The trail gains 400 m (1,300 ft.), half of its elevation, during the next 2.5 km. Horsethief Creek flows in almost continuous waterfalls beside the steep switchbacking trail. One wide corner is by a picturesque waterfall above a deep pool and a good rest spot, N90659-E27389.
6.2 km: Grade flattens significantly. Cross a small, split-log footbridge over a slow-moving, shallow side tributary. The vegetation is subalpine in character, with avalanche debris and wet sections partially obscuring the trail.
6.9 km: Large meadow and the FS recreation campsite. The trail ascends the meadow with views of a waterfall. Cresting the rim of the falls on a trail, hikers see their first view of Lake of the Hanging Glacier.
7.6 km: The shoreline, 200 m across a rocky, level, lakeside delta.
Directions
This popular lake is a 50-km drive up a good logging road about 1.5-hour drive from Invermere or Radium. Follow detailed directions for Forster Creek and Horsethief Creek FS roads found under Forster Creek for Thunderwater Lake and Welsh Lakes earlier in the chapter.
Reset odometer to 0 at four-way junction of Westside Road and Horsethief Creek Road.
Drive (repeated from Horsethief Creek FS Road)
Road: any vehicle; high-clearance last 6 km
50 km: Continue straight (west) on Horsethief FS Road (46 km sign). On the left is the Farnham Creek footbridge. Overnight camping at FS Recreation Site.
51 km: Avalanche debris blocked road in 2008 (49 km sign). If repaired, drive to the end of the road.
52.4 km: Trailhead sign (50 km sign) with space for several vehicles and a campsite with outhouse and firepit, N93000-E29300.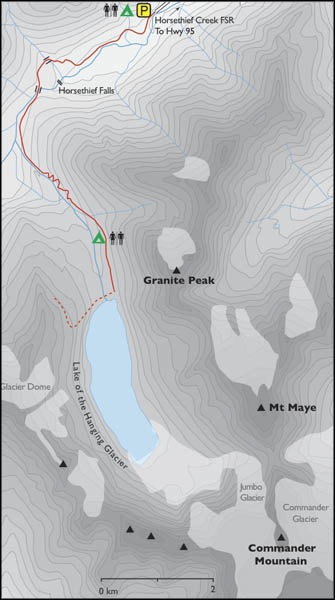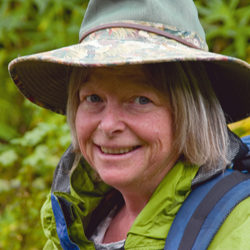 Janice Strong
Janice Strong is an established professional outdoor photographer. Her images grace collections all over the world and appear in many respected publications. She is passionate about hiking and is also an avid snowshoer and skier, exploring the outdoors of the East Kootenay in southeastern BC year round.
She openly shares her passion for the outdoors with others and has introduced hundreds of people to the joys of hiking. For a decade she led hikes for the City of Cranbrook – Parks and Recreation. With her guidance, many people have themselves become enthusiastic hikers.
Climbing mountains, finding new places and enjoying the experience of the journey have always been important to Janice. She cherishes the little things she sees along the trail, as well as the grand destinations.
When Janice is not writing, hiking or taking photographs, she is involved in various creative digital, website design or photographic projects for her clients. She and her husband, Jamie Levine, enjoy their rural property, near Cranbrook, BC.