2.5 km (does not include 650 m of paved road)
Distance
This loop takes you up the east side of Reinecker Creek, crossing it on a narrow bridge far above the falls and finishing off with a stroll down the west side of the creek.
The descent back to the Margaret Falls parking lot is mostly a pleasant, flat walk among gorgeous western red cedar and western hemlock.
From the Margaret Falls parking lot, follow the path to Margaret Falls (this is the only trail leaving the parking lot). It makes its way downward and briefly parallels the paved road. Here, you must leave the trail and jump up onto the road to continue approximately 400 m to a wooden staircase on the left side of the road. Make your way up this short set of steps to the trailhead of the Upper Canyon Loop.
The single-track trail begins to climb immediately and within 10 minutes produces a spectacular view of Shuswap Lake. Another five minutes later, there is a minor junction where a side trail diverts to a viewpoint. The main trail resumes to the right (straight).
Through a thick forest, the way takes you creekside among a forest of spruce and pine, with the rumble of Margaret Falls as a constant in the background. A half hour into the hike, the trail comes to its first key intersection. At this point, you have trekked 1.4 km from the wooden staircase off of Sunnybrae Canoe Point Rd. The sign says that the west portion of the Upper Canyon Loop carries straight and the Lower East Reinecker Creek Trail goes up a narrow trail to the right. Continue straight (left fork) and cross Reinecker Creek a couple of minutes later on a skilfully constructed wooden beam bridge.
Now on the west side of the creek, the path turns and makes its way back to the parking lot. It travels creekside as a wide, unobstructed trail, but within 10 minutes the trail is high above the creek as the creek makes its descent toward Margaret Falls.
For the next 15 minutes the route is a pleasant, flat stroll through a dense forest of western hemlock and western red cedar. The flat walk eventually drops down to the paved road, where you will turn left to make your way back to the parking lot, 250 m away.
Directions
From downtown Salmon Arm, travel west on the Trans-Canada Highway for 15 km and turn right onto Sunnybrae Canoe Point Rd. Drive 11.2 km to arrive at Margaret Falls parking lot, on the left side of the road.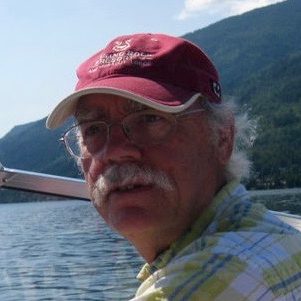 Gerry Shea
Gerry Shea lives in Kamloops with his wife and children and he is also the author of The Aspiring Hiker's Guide 2: Mountain Treks in British Columbia.