Nominal
Elevation Gain (m)
The Marysville Waterfalls trail is a short 10-minute walk along the wide boardwalk.
Follow the Al Fabro Mark Creek boardwalk down the creek about 400 m to the falls. Mark Creek plunges over a 20- to 25-m drop as it carves through the narrow rock canyon on its way to St. Mary River. Green moss clings to the side of the gorge and a frothy white mist rises up from the cascade.
Directions
Road: Highway 95A in Marysville; the falls parking is by the bridge over Mark Creek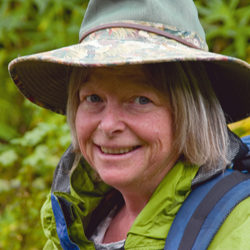 Janice Strong
Janice Strong is an established professional outdoor photographer. Her images grace collections all over the world and appear in many respected publications. She is passionate about hiking and is also an avid snowshoer and skier, exploring the outdoors of the East Kootenay in southeastern BC year round.
She openly shares her passion for the outdoors with others and has introduced hundreds of people to the joys of hiking. For a decade she led hikes for the City of Cranbrook – Parks and Recreation. With her guidance, many people have themselves become enthusiastic hikers.
Climbing mountains, finding new places and enjoying the experience of the journey have always been important to Janice. She cherishes the little things she sees along the trail, as well as the grand destinations.
When Janice is not writing, hiking or taking photographs, she is involved in various creative digital, website design or photographic projects for her clients. She and her husband, Jamie Levine, enjoy their rural property, near Cranbrook, BC.