Perry Creek Road and St. Mary River Road are busy logging roads; watch for loaded logging trucks barrelling down some of the narrow winding hills. The road commonly has washboard ruts, but is suitable for any vehicle.
Mother's Day Hill is a pleasant, short and easy trip for spring. The bright-yellow balsamroot sunflowers carpet the south-facing hillsides in mid- to late May. Purple lupine stalks billow in the hot June sunshine. Many other species of wildflowers cover the open hillsides in spring. A few large ponderosa pine trees stand in the grasslands near the ridge.
Mother's Day Hill earned its name when an avid hiker family "discovered" the area on Mother's Day. I have taken many hikers on this easy, early-season hike and the name stuck.Trail
0 km: From the cattle guard at the parking spot, hike southwest (left side of the road) uphill on a well-defined horse trail.
2.8 km: Grassland; veer off the trail to see the view of the Rockies. The road continues through the forest uphill to another open slope.
4.5 km: On the second west-facing open slope, just before the trail bends downhill, there is a well-used horse trail. It leaves the road and heads uphill, north (right). The horse trail may be hard to find.
5.5 km: Horse trail leads to rocky bluff overlooking the St. Mary River, with the Rockies in the distance.
5.5 km: Drive St. Mary River Road for 2 km (just beyond 6 km sign). As the road levels out after a hill, park at a cattle guard at 940 m (3,080 ft.).
Directions
Road: good gravel; any vehicle
In Cranbrook turn off Highway 3/95 at the traffic lights: King Street NW and 9th Avenue. Follow this paved road northwest for 12 km. Turn left (west) at the Wycliffe Regional Park sign onto Perry Creek FS Road. (King Street NW is the name in Cranbrook and when the street gets to Perry Creek it is called Wycliffe Road.)
0 km: Wycliffe Road and Perry Creek Road.
3.5 km: Turn right onto St. Mary River FS Road (Perry Main FS Road left fork).
5.5 km: Drive St. Mary River Road for 2 km (just beyond 6 km sign). As the road levels out after a hill, park at a cattle guard at 940 m (3,080 ft.).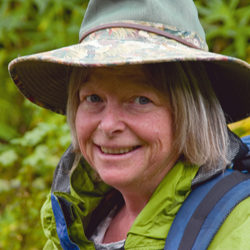 Janice Strong
Janice Strong is an established professional outdoor photographer. Her images grace collections all over the world and appear in many respected publications. She is passionate about hiking and is also an avid snowshoer and skier, exploring the outdoors of the East Kootenay in southeastern BC year round.
She openly shares her passion for the outdoors with others and has introduced hundreds of people to the joys of hiking. For a decade she led hikes for the City of Cranbrook – Parks and Recreation. With her guidance, many people have themselves become enthusiastic hikers.
Climbing mountains, finding new places and enjoying the experience of the journey have always been important to Janice. She cherishes the little things she sees along the trail, as well as the grand destinations.
When Janice is not writing, hiking or taking photographs, she is involved in various creative digital, website design or photographic projects for her clients. She and her husband, Jamie Levine, enjoy their rural property, near Cranbrook, BC.