This is a moderately difficult scramble with significant challenges, as there are several stout rock walls that will call upon minor scrambling skills, making this a complete pleasure to climb. Many logbooks and various sources state that the least problematic way around the rockbands is to find a route that suits you. Take the time to explore the face of the daunting main wall near the summit, and do not be afraid to backtrack if your first choice becomes too difficult.
When you're struggling up a scree slope, turn around every so often to enjoy the sights behind you. Here's Stanley Peak viewed from the scree slope of Mount Whymper. This rock outcropping is easily accessed, and provides a fantastic spot for resting and viewing.
Mount Whymper is easily spotted from the highway, as it lies slightly back from the northwest side of it. Walk back up the highway toward Castle Junction, 500 m from the parking lot, until you reach the opening of an avalanche slope. This opening is the culmination of debris from two gullies farther up that will eventually narrow to chutes as they approach the top of the mountain. The main channel is the one on the right, and you will need to make your way over to it before too long.
As destructive as avalanches can be, they have a tendency to leave remarkable scenery in their wake as they tear apart hillsides that were once populated by a forest. The wide open slope delivers amazing views of Storm Mountain and Stanley Peak across the highway. Within 90 minutes of toiling up the gulley, you come to the first of a few easy scrambles over minor rock bands. It is best to veer to the right side of the first of these. The remaining obstacles are barely worth mentioning.
More clambering upward on loose rubble brings you to a high, narrow limestone buttress that splits the gulley, creating two distinctive routes. The left path is the recommended one. Make your way through the chute around the left side of the rock edifice and emerge through the gully, keeping to the left for the easiest course over more rock bands. Route-finding now becomes somewhat tricky, and you will soon discover that there are many ways to go. However, after veering to the left, it seems that the least troublesome approach is directly up the middle of the rockband. Regardless, you will be confronted with some hand over fist exposure.
I usually feel compelled to inform readers when they will encounter a tough or even dangerous part of a scramble and this is one of those moments. I do not enjoy spending the day on a slippery scree slope only to discover that the final 30 m are beyond my sense of well-being. There is significant exposure at this point of the journey, so assess your comfort level. Even stop to envision the descent. You are almost at the summit, but do not push yourself; it is only a mountain and there are plenty of other ones to conquer. From experience, I cannot stress how important it is to have a pact with yourself and your buddies prior to reaching a summit. In our crew, we have an ironclad verbal agreement that if one of us is not feeling comfortable about a section of a climb, then the day is over. There is no discussion and there is certainly no argument about it. Everyone understands.
Fortunately, no one objected on this day, so we scrambled over the rock wall and quickly reached the summit.
Mount Whymper history
Edward Whymper gained notoriety for his first ascent of the Matterhorn in 1865. The CPR brought him to the Rockies to do some climbing for publicity purposes, but his efforts fell far short of his earlier achievements. He and his entourage of guides – Joseph Pollinger (Mount Pollinger), Christian Klucker, Christian Kaufmann (Kaufmann Lake) and Joseph Bossonney, explored the Rocky, Selkirk and Vermilion areas and ascended several peaks there, including Mount Whymper.
Soon after this well-publicized exploration had taken place, outfitters like Walter Nixon began transporting tourists through these valleys on horseback, blazing many trails that are still used today.
Directions
The trailhead parking lot is easily reached on the south side of the Banff–Windermere Highway (Hwy. 93), 13 km from Castle Junction. It is marked as the Stanley Glacier Trail parking lot, and like so many scrambles in the mountain parks, there is no reference to Mount Whymper at all. I will direct you there.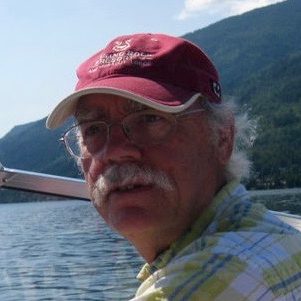 Gerry Shea
"Gerry Shea moved to Kamloops from Vancouver at the age of nine, which is when he became enchanted by the nearby hills. It was on a family vacation many years later that he discovered the mountains and began hiking and climbing in his spare time, gathering knowledge and experience that he has since used to help beginning hikers, scramblers and backpackers to trek safely. Gerry lives in Kamloops with his wife and children."
Excerpt From: Gerry Shea. "The Aspiring Hiker's Guide 2: Mountain Treks in British Columbia." iBooks.