The Rocky Mountain traverse from the Three Sisters trailhead to the Island Lake Resort is a newly popular and challenging, long, day hike. The trail was built by volunteers and private donations over three years. The route stays fairly high on the ridges and steep sidehills of the Fernie mountains.
Rugged limestone passes and ridges are part of the route, but fabulous scenery and open alpine meadows completes the day hike. You can do the hike from either direction. Stop at Island Lake for a drink after you complete your car shuttle.
Wilderness skills are necessary for this route, as it was constructed for experienced hikers only and is not suitable for dogs. The route takes at least eight to ten hours. Wildlife such as bears, both black and grizzly, live in these high places and it is advisable to hike in groups and let the animals know of your approach.
Further exploration
Mount Fernie cutoff, a.ka. "Rocky Way"
The Rocky Way–Mount Fernie Trail cutoff intersects with the Mountain Lakes Trail at 8.3 km from Island Lake Resort at West Fernie Pass. Begin at Island Lake Resort and descend via the cutoff about 15 km, or start from Three Sisters Trailhead and take the cutoff to shorten the hike by about 5 km. The trails may be hiked from either direction.
At West Fernie Pass, N89461-E35123, 2133 m (7,000 ft.), the trail heads generally south to a pass on the ridge of Mount Fernie, N87207-E37297, at 1975 m (6,480 ft.). The route heads east and down the open southeast slopes of Mount Fernie. The exact final location was not complete in 2008, as it fades out on the power line by the development on southeast side of Fairy Creek. The trail builders are trying to create an improved terminus at a public parking area. (Trail research by DH and PG.)
Open alpine below massive limestone mountains makes the Mountain Lakes Trail an enjoyable but strenuous hike. Photo by Doug Hogg
Trail
Start the trail at either end, distances and GPS points are approximate.
0 km: Begin at Three Sisters Trailhead and hike the trail to the pass.
6.6 km: Three Sisters Pass. Head south straight ahead at the pass (left route to climb Three Sisters Mountain; right-hand route to climb up the edge of Mount Bisaro). Descend south to Fairy Meadows and climb again up to West Fernie Pass.
12 km: West Fernie Pass, N89461-E35123, at 2133 m (7,000 ft.), known locally as Windy Pass, and the junction with the Mount Fernie cutoff trail a.k.a "Rocky Way." For Island Lake Resort, continue straight. Keep heading southwest along the sidehill, descending for about 2 km. (For Mount Fernie cutoff, take the left fork and head southeast.)
16.5 km: Pass above Cedar Valley Ridge, N97051-E33638, at 1965 m (6,450 ft.). Follow the Tamarack Trail down to the resort.
20 km: Island Lake Resort, open to the public for food and drinks. (Trail research by PG and DH.)
Directions
Road: two-vehicle shuttle required; 4x4 high-clearance for Three Sisters access road.
Drive one vehicle to Island Lake Resort, and take a second one around to Three Sisters Trailhead . About an hour for vehicle shuttle before and after the hike.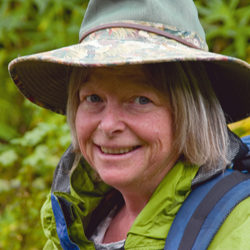 Janice Strong
Janice Strong is an established professional outdoor photographer. Her images grace collections all over the world and appear in many respected publications. She is passionate about hiking and is also an avid snowshoer and skier, exploring the outdoors of the East Kootenay in southeastern BC year round.
She openly shares her passion for the outdoors with others and has introduced hundreds of people to the joys of hiking. For a decade she led hikes for the City of Cranbrook – Parks and Recreation. With her guidance, many people have themselves become enthusiastic hikers.
Climbing mountains, finding new places and enjoying the experience of the journey have always been important to Janice. She cherishes the little things she sees along the trail, as well as the grand destinations.
When Janice is not writing, hiking or taking photographs, she is involved in various creative digital, website design or photographic projects for her clients. She and her husband, Jamie Levine, enjoy their rural property, near Cranbrook, BC.