This scramble is broken up into three distinct sections. The first is an uphill trudge with bushwhacking through an unmarked forest. The middle part is an uphill trudge on an alpine hillside, while the third section is an uphill trudge of loose scree skirting around rock walls. Quite a lot of uphill trudging there. The scramble also features some distinct exposure and there are some decisions to be made about how to get around two of the largest obstacles. These can be avoided by dropping down to the right of them, or you can try your scrambling skills up and over them. There are three summits: one minor, one false and one true, and all of them lie along a superb ridge walk. Sound like fun? This is an immense day, so leave early and make sure to take some energy supplement. This will be a day of serious exertion.
Preferred route up Narao Peak..
The climb up to treeline presents you with a massive slope of alpine growth of lichens and flowers, fist-size rocks and solid soil for firm footing. This is a long, exhausting push on this slope, and you will already be quite weary from hacking your way through the bush. The idea is to attain the ridge as soon as possible, as walking the ridge is comparatively easier.
The ridge walk has an easy grade and even some flat spots, which is comparatively substantial relief, considering how you've just spent your morning. This sauntering style of ridge walking is soon disturbed by various rock buttresses, with two of them presenting clear problems. Having said that, they can all be quite easily evaded by detouring around the right side of them. If you do choose the detours, however, you will have to clamber back up to regain the ridge, involving considerably more work. There is one intimidating rock band in particular (the first substantial one you meet) that can be bypassed like the others, but this one should be ascended by a conveniently placed chimney chute at the right side of the buttress. Upon exiting the chimney, regain the ridge by moving carefully to the left on a ledge.
Ultimately, scrambling over and around the variety of hurdles will place you at all three summits, including the false (north) and the true (south) summits. Gaining the true summit will require you to drop down from the false summit into a col and then up a moderate slope of large rocks and scree.
Directions
Take the Trans-Canada Highway 13.5 km east of Field and follow the highway markers to the Lake O'Hara parking lot. Hike 2 km up the Lake O'Hara road (distances are marked on trees on the right-hand side). There you'll see a couple of different entrances into the forest. The first one is five minutes down the Ross Lake Trail, which lies just before the 2-km marker. The second entrance is just past the marker, where the woods open ever so slightly.
The first leg of this scramble has neither a real trail nor a marked trailhead, so bushwhacking is your only option for reaching the summit. Walking up the road presents terrific views of the approach to Narao Peak. It also provides a plan of attack on the forest: once you are in the woods, the summit is not visible, so try to gain a general sense of where you are going before entering blindly. Still, it is difficult to get turned around, since the only two directions are either up or down. Nonetheless, it is possible to emerge from the woods too far north of the scree slope, which would entail some doubling back. There is close to two hours of pushing through the forest on a severe uphill grade, and there is plenty of low-level vegetation that has the sole purpose of cutting up your shins, so be careful. Dress accordingly.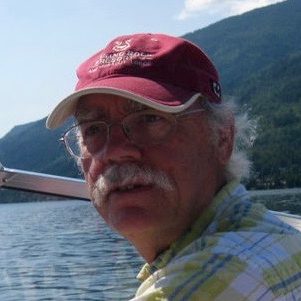 Gerry Shea
"Gerry Shea moved to Kamloops from Vancouver at the age of nine, which is when he became enchanted by the nearby hills. It was on a family vacation many years later that he discovered the mountains and began hiking and climbing in his spare time, gathering knowledge and experience that he has since used to help beginning hikers, scramblers and backpackers to trek safely. Gerry lives in Kamloops with his wife and children."
Excerpt From: Gerry Shea. "The Aspiring Hiker's Guide 2: Mountain Treks in British Columbia." iBooks.