Variable
Elevation Gain (m)
At the headwaters of Wild Horse Creek is a scenic alpine slope featuring Nine Basins. The western border to Top of the World Provincial Park (TWPP) is buttressed by a steep ridge and an open grassy basin. The slope is punctuated with small trees and some flowers. The slopes of Nine Basins are below the blocky summit of Mount Dingley, 2650 m (8,700 ft.)
The basins are a series of smaller bowls coming off the high ridge at the park boundary. Each high bowl loops to the next making the topography a smooth even sidehill.
The basins are all different and hikers can follow mostly along paths between rock terraces and grassy meadows. Stay on contour across the upper elevations of the basins. A good meandering destination might be the small tarn that snuggles below the rocky slopes of Mount Dingley.
Trail
Leave the truck at the parking spot at 26.2 km on Wild Horse Creek Road. Take the right fork to Nine Basins, N18600-E09200. (The left fork road goes to Fay's Lake.)
Walk or ride an ATV up the steep rough road for 2 km. The steep road heads northeast and gains 304 m (1,000 ft.). From the upper end of the steep old road, the trip becomes a meandering hiking exploration.
Hike up the creek gully to about 2130 m (7,000 ft.), and then the route is in the open alpine on undulating plateaus around Nine Basins. Wander generally southwest, following intermittent trails to the tarn, N19200-E11700, at 2255 m (7,400 ft.).
Another option is to hike from the top of the road and continue up the creek gully. Head toward the lowest part of the ridge, a gain of 730 m ( 2,400 ft.). The lowest part of the ridge is almost 2440 m (8,000 ft.), N20800-E10800, and if you hike up there you can look down into Sparkle Lake. See Top of the World Provincial Park.
Directions
Road: high-clearance vehicle; off-road ATV assist; ride ATV or walk the 2 km up steep, old road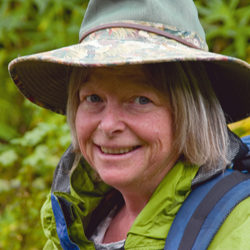 Janice Strong
Janice Strong is an established professional outdoor photographer. Her images grace collections all over the world and appear in many respected publications. She is passionate about hiking and is also an avid snowshoer and skier, exploring the outdoors of the East Kootenay in southeastern BC year round.
She openly shares her passion for the outdoors with others and has introduced hundreds of people to the joys of hiking. For a decade she led hikes for the City of Cranbrook – Parks and Recreation. With her guidance, many people have themselves become enthusiastic hikers.
Climbing mountains, finding new places and enjoying the experience of the journey have always been important to Janice. She cherishes the little things she sees along the trail, as well as the grand destinations.
When Janice is not writing, hiking or taking photographs, she is involved in various creative digital, website design or photographic projects for her clients. She and her husband, Jamie Levine, enjoy their rural property, near Cranbrook, BC.