Variable
Elevation Gain (m)
The Cross River Gorge cuts through hard beige rock in a vertical-walled canyon with the river churning far below. One natural bridge spans the deep chasm. A wooden bridge crosses atop the natural bridge, offering you a safe place to view the canyon. It is hard to see the natural stone bridge from the human-made one, though.
Trails
The managed, well-maintained, public-use Nipika Mountain Resort trails wind for 50 km through undulating hills forested with dry Douglas fir, lodgepole pine and western larch.
One trail leads to the natural bridge. Another follows the rim of Cross River Canyon for a few kilometres. Yet another follows the edge of a steeply stepped waterfall. Other trail destinations around Nipika are the trails to the confluence of the Kootenay and Cross rivers. Two metal bridges span the scenic rivers. Openings in the forest expose the views of surrounding Rocky Mountain peaks.
Nipika Mountain Resort
Nipika Mountain Resort maintains the trails for their guests and the public. The resort is in partnership with BC Ministry of Tourism, Sport & the Arts. "The trail network spans 1,500 acres and is designated as a non-motorized, non-firearms Forest Service Recreation Site specifically for skiers, cyclists, hikers and runners," says Nipika at www.nipika.com.
The resort offers impeccable track-setting for both classic and skate cross-country skiing styles. There are trails for all abilities, from beginner to advanced. In summer, hikers, horse riders and cyclists are also welcome to use the trails. A day-use fee is charged in winter for skiers to access the groomed trails. Public facilities include parking, washrooms, heated waxroom, lunchroom, rentals and ski school.
Nipika Mountain Resort is in a gorgeous setting. There are seven luxurious cabins sleeping from six to eight people each, plus the main lodge, which sleeps 12 to 13.
Rating: easy to advanced skiing, easy to moderate hiking, mountain biking, trail running
Distance: several signed loops, various lengths
Natural bridge: 1090 m (3,600 ft.)
Trail: trails maintained for hiking, mountain biking, trail-running, cross-county skiing (classic and skate-skiing); wide and single-track graded trails along the canyon rim of Cross River, signed and managed
Map: Follow links at www.nipika.com for access and trail maps; pick up a map at the trailhead
Height of the Rockies Provincial Park
The Height of the Rockies Provincial Park (HOTR) is exceptional wilderness along the western edge of the Continental Divide in the Rocky Mountains. As a provincial park, this mountain wilderness is finally earning the recognition it deserves.
The 50-km long park shares its boundaries with prominent Rocky Mountain neighbours: Banff and Kootenay national parks, Mount Assiniboine and Elk Lakes Provincial Park in BC and Peter Lougheed Provincial Park in Alberta. All these adjacent parks form a UNESCO World Heritage Site. The park was primarily set aside as inclusion into a protected wilderness, not for recreation.
Recreation
Visit the BC Parks website: www.env.gov.bc.ca/bcparks/explore/parkpgs/height/
There are no roads into HOTR. Access to the boundary is via active logging roads that are usually open in summer. Check with the BC Forest Service in Cranbrook for current road conditions. The trails are only minimally maintained. There may be many blowdowns and medium-sized creek crossings, and some routes are only roughly defined. The Kootenay Backcountry Horsemen and other backcountry volunteers do repair some HOTR trails, but there are no signs, no facilities, so hiking into HOTR requires mountain experience and self-sufficiency.
Recommended hikes described in this book
Joffre Creek to Sylvan Pass and onto Limestone Lakes.
Ralph Lake on the western edge of the park, see entry #76.
Hikes not in this edition
Middle Fork of the White River is primarily a horse track, with bushwhacking options to Deep Lake and Driftwood Lake. This hike is 15 km, with an elevation gain of 670 m (2,200 ft.), with rough bushwhacking for a third of the route. Driftwood Lake is below Pass in the Clouds. The hike is not included in this book, due to fire damage in 2003. The burned area spanned much of the trail. Among the stark, black, standing trunks of the dead trees, hiking or riding a horse in the burned area is very hot in summer, as there is now no shade.
Connor Lakes is near the trailhead as is the Middle White trail. The largest of the two Connor Lakes is 3 km long with a tiny cabin at the northern end. Access is best from the Maiyuk Creek side because hikers can reach the tiny cabin. The 2003 fire burned across most of the Maiyuk valley to Connor Lakes and the firefighters saved the old cabin. The Maiyuk Creek rec site at the trailhead was not burned and it still has all the basic amenities. I have not hiked to Connor Lakes from the Elk River access, Forsyth Creek. This access was not burned in the 2003 fire.
The fish stock in Connor Lakes provides an important source of eggs for the Kootenay Trout Hatchery in its native cutthroat stocking program.
Fire
In 2003 a large forest fire destroyed much of the southern part of the park, the middle fork of the White River and around Connor Lakes. The primary tree in that area is lodgepole pine, which is a fire-dependent species. Every 100 years or so, fire destroys the lodgepole pine forest, but thousands of cones germinate and those seedlings rapidly and thickly regenerate.
Today, six years after the fire, the seedlings are about waist high and taller, with young trees growing in a dense mat. In a decade or so, and without thinning and trail-clearing work, the mass of tiny trees will be impenetrable.
In 1936 a large forest fire also burned much of the park's forest. Patches near White River, Upper Joffre Creek and by Queen Mary Creek remain as mature forests. Another fire scarred the area in the early 1900s.
Mountains
The spectacular and stunning peaks of HOTR are a result of its uniform geology. Thick layers of light-grey limestone tilted and were squeezed upward to slope thousands of metres high. Those erosion-resistant blocks of stone cracked apart, and, as the rocks fractured, one side of the ranges typically formed cliffs while the opposite side, inclined less steeply, formed giant ramps of tilted bedrock. (Mount Rundle, along Highway 1 in Banff, is a typical example.)
Historical information
Archaeological evidence suggests that First Nations people travelled in HOTR throughout the last 8,000 years. The Ktunaxa (Kootenay people) were the first people in this area of BC. They travelled primarily over Palliser Pass, at 2084 m (6,800 ft.), North Kananaskis, at 2359 m (7,700 ft.), and through South Kananaskis Pass, at 2267 m (7,400 ft.).
The Ktunaxa also crossed "Pass in the Clouds," between the middle fork of the White River and the Elk Valley. In the 1800s the Blackfoot people of the prairies were concerned the Ktunaxa might obtain firearms. The Blackfoot blocked Ktunaxa access over the Crowsnest and other passes in the Elk Valley, so the Ktunaxa used the rugged HOTR passes instead.
The earliest white expedition into the region was in 1845, by lieutenants Warre and Vavasour on a military reconnaissance over the North Kananaskis Pass.
One of the first publications describing Pass in the Clouds was in a 1901 issue of National Geographic magazine. W.D. Wilcox had just returned from his Canadian Rockies expedition, and in the magazine story he explained the trail-building techniques used by the Ktunaxa to traverse the enormous scree slope using the same techniques we use today. They built trails by throwing larger rocks down for a base and then filling in the spaces with smaller stones.
In 1995, after decades of work by naturalists, guide outfitters, the forest industry and the BC government, HOTR was officially designated a BC Park.
Kootenay and Palliser rivers, Albert Creek and Joffre Creek FS roads
Access roads for hikes:
Natural Bridge – Nipika Lodge
Height of the Rockies, Ralph Lake
Height of the Rockies, Sylvan Pass and Limestone Lakes
Road map ; see also the detail map
Maps: 82J/11 Kananaskis Lakes; 82J/12 Tangle Peak (NAD83)
You will need a high-clearance vehicles to drive these roads. Summer storms may wash out the backcountry roads anytime or the roads may change from year to year due to meltwater, blocked culverts, avalanche debris on road, and mudslides.
Have extra food, water and blankets in the vehicle in case you get stranded by a storm or washout.
Cell phones do not work in these very remote places, and if the road is impassable it may be a long walk.
The roads in this remote section of the Rockies are confusing. The signage is conflicting and road names are often similar.
The road map should help you find your way on these roads. The FS roads are generally in good condition and lead to some spectacular destinations. See also the Backroad Mapbooks – Kootenay Rockies BC contact info found in Contact Information and Resources.
Highway 93 in Kootenay National Park to Settler's Road
This is a shorter gravel road and in better condition than the south route from Canal Flats.
0 km: At the four-way stop in Radium, turn east on Highway 93, toward Banff, for Kootenay National Park.
1.2 km: Kootenay National Park gate.
2.8 km: Radium Hot Springs; public, commercial hot spring pools and parking.
18.7 km: Turn south (right) onto Settler's Road (signed). The road is busy with big mining trucks hauling the white mineral magnesite, used in supplementing cattle feed.
Reset odometer to 0.
Palliser/Kootenay FS Road
0 km: At junction of Settler's Road and Highway 93, drive south on Settler's Road. It is a wide gravel road, busy with ore-hauling trucks.
11.8 km: Turn left to Cross River FS Road, N07714-E84426 (avoid right fork, Kootenay/Settler's FS Road, which continues south to Canal Flats). The next 2 km is rough with washboard ruts and heads steeply down to the river, with no edge barriers. Drive carefully and watch for fully loaded logging trucks in this narrow section.
13 km: Cross the Kootenay River bridge.
13.8 km: Climb the hill up from the bridge, N07706-E85550 (14 km sign).
For Ralph Lake and Sylvan Pass, turn right and head southeast on the large, well-maintained Palliser/Kootenay FS road (not signed). For Nipika Mountain Resort natural bridge trails, turn left at this junction and onto a small road. In 50 m it ends at the day-use parking for access to Nipika Mountain Resort public trails for biking, hiking and cross-country skiing.
34.8 km: Keep heading southwest on the Palliser/Kootenay FS road to an important junction, N97518-E97583. Take the major, left fork (which mostly goes straight) and head east. (Avoid the right fork, Kootenay (Fenwick) FS Road, which is the junction road that connects from the south, Canal Flats, and is much rougher and longer, so it is not described.) Cross the Palliser River bridge (36 km sign).
38.7 km: Junction, N97824-E01437 (40 km sign). The junction is approximately 40 km from Highway 93.
For Ralph Lake, turn left (north) downhill at the Palliser/Joffre/Albert junction onto the Kootenay Albert River FS road. (See below under the heading "Albert River FS Road for Ralph Lake.")
For Sylvan Pass, continue straight at this junction to Joffre Creek. (See below under the heading "Joffre Creek FS Road for Sylvan Pass.")
Reset odometer to 0.
Albert River FS Road for Ralph Lake
High-clearance vehicle from here. About 1.2 km north along the Albert River FS road is the (signed) small loop road to a Palliser Albert FS campsite at the confluence of the Palliser and Albert rivers, N98916-E01494.
Continued from 38.7 km mark above.
0 km: Junction Albert River FS Road, N97824-E01437.
1.2 km: FS rec site camping at the confluence of the two rivers (41 km sign).
2.0 km: Take left fork (north) and cross the Albert River bridge (avoid right fork, Shag Road).
11.5 km: Continue straight (between 51 and 52 km signs). Right fork heads down to a wilderness riverside campsite suitable for horses.
15.3 km: Cross small bridge (55 km sign). For the next 1 km or so there are several potential spots for large road washouts. These were in good repair in 2006, but may go again at any time.
16.7 km: The third small bridge is 200 m before the turnoff (57 km sign). Turn right (east) (past 57 km sign) onto a small unmarked dirt road almost overgrown with alders, N127700-E03688. The trailhead is 400 m farther.
17.1 km: Park at the end of the small road that is the signed trailhead for Ralph Lake – Height of the Rockies Provincial Park.
Joffre Creek FS Road for Sylvan Pass
High-clearance vehicle from here.
Continued from 38.7 km mark above.
0 km: Continue straight at the junction with Albert River FS Road, N97824-E01437.
7.5 km: Continue straight on Joffre Creek (avoid left fork, Palliser Canyon).
14 km: Continue straight (near 54 km sign; avoid left fork, Queen Mary Lake trail).
14.7 km: Turn left onto an older road (avoid the logging road that switchbacks to the right), approximately N96100-E14100.
23.3 km: Height of the Rockies sign (64 km sign); road in fair condition. Take left fork. Road is narrow, but may be passable for another 500 m.
24.8 km: Parking spot is a cleared wide landing suitable for vehicle campsite. Parking for Sylvan Pass trailhead, N03126-E19822.
Directions
Road: any vehicle; washboards on gravel heavily used by logging and mining trucks
See Palliser/Kootenay Roads. Heavy ore trucks frequently use Settler's Road and Cross River Road for hauling the white mineral magnesite, used in supplementing cattle feed.
11.8 km: The road edges along the steeply sloping sides of the Kootenay River bank for about 1 km. Here the surface is just barely wide enough for one large industrial truck and a passenger vehicle to squeeze to both sides of the road. Drive slowly and very carefully in this section above the river, where you can not see around the tight curves.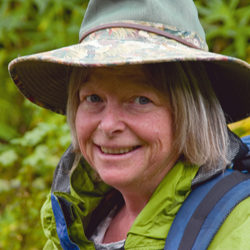 Janice Strong
Janice Strong is an established professional outdoor photographer. Her images grace collections all over the world and appear in many respected publications. She is passionate about hiking and is also an avid snowshoer and skier, exploring the outdoors of the East Kootenay in southeastern BC year round.
She openly shares her passion for the outdoors with others and has introduced hundreds of people to the joys of hiking. For a decade she led hikes for the City of Cranbrook – Parks and Recreation. With her guidance, many people have themselves become enthusiastic hikers.
Climbing mountains, finding new places and enjoying the experience of the journey have always been important to Janice. She cherishes the little things she sees along the trail, as well as the grand destinations.
When Janice is not writing, hiking or taking photographs, she is involved in various creative digital, website design or photographic projects for her clients. She and her husband, Jamie Levine, enjoy their rural property, near Cranbrook, BC.