3.5–4 km loop; side trails and viewpoints add to overall distance
Distance
Nominal
Elevation Gain (m)
This hike is the outer loop of a network known as the Park Hill Trail System within the city limits of Salmon Arm. It provides a cool, diverse forest walk with scenery that includes Shuswap Lake, with Sunnybrae Point and Bastion Mountain across the lake.
Shuswap Lake viewed from the Bastion Viewpoint.
The trailhead is easily found on the east end of the parking lot. The network is populated with shortcuts and quick trips, but to thoroughly enjoy this forest walk, follow the posted signs to the Outer Loop. Elevation is gained and lost throughout this walk, but there are no excruciating climbs, as the path simply undulates through a forest of birch, cedar and hemlock.
The first directional sign sends you to the left to pick up the Outer Loop East trail. The next five minutes presents a succession of signs as tributary trails branch off to the Koski parking area and Lund Trail. Continue to follow Outer Loop East Trail.
About 1 km from the trailhead, Outer Loop East Trail becomes Outer Loop South Trail.
Wander through the thick forest for another kilometre, enjoying the coolness that its canopy furnishes, passing junctions to Park Hill Rd. via Vye Trail, Sanson Trail via Hanna Trail and Sanson Trail via Petersen Trail and Ruth Trail.
Around the 2 km mark, Outer Loop South Trail becomes Outer Loop North Trail.
There are a couple of unmarked trails departing Outer Loop South and North, heading to the west (left). These trails go through private property, so please acknowledge the owners' privacy by treading lightly if you choose to take this short loop.
About five minutes on Outer Loop North, look for a narrow footpath that climbs slightly uphill to the left just as the lake comes into view. Take this short 10- to 15-minute divergence to Bastion Viewpoint to gain enhanced panoramas of Shuswap Lake and of course Bastion Mountain. From this viewpoint junction there is approximately 1.5 km remaining to the parking lot.
Returning from the Bastion Viewpoint to complete the Outer Loop North you will notice some of the same trail names you encountered along Outer Loop South, now joining Outer Loop North from the right.
One of these routes on the right, presumably Lund Trail, is unmarked at a notable fork. Take the left branch and you will reach the parking lot in about 10 minutes.
Directions
From downtown Salmon Arm, take the Trans-Canada Highway east. Turn left on 30th St. NE and drive 4 km to 60th Ave. Turn right onto 60th Ave., which soon becomes Park Hill Rd. Drive another 2 km to the overflow parking for Canoe Beach, on the left. Park in the gravel lot.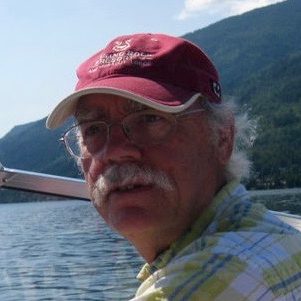 Gerry Shea
Gerry Shea lives in Kamloops with his wife and children and he is also the author of The Aspiring Hiker's Guide 2: Mountain Treks in British Columbia.