Variable
Elevation Gain (m)
Pickering Hills is a lovely, low-elevation area with rolling grassland hills sparsely covered with Douglas fir trees and aspen groves, but mostly it is prairie. Several duck ponds fill in the lowland basins. Bull Mountain, elevation 2641 m (8,665 ft.), rises to the north.
Pickering Hills sprawls between mountains of The Steeples and the Lizard Range of the Rockies and the Kootenay and Bull rivers. This 4-by-12-km strip of low-elevation grassland is used by ungulates (deer, elk) for winter range and by cattle for summer range. The grassland provides ideal forage.
The open meadows are braided with forest and hold several small ponds, making for easy relaxing strolls.
There are no specific routes in this area. The open terrain is good for spring and fall day hiking or for easy mountain biking. It is a nice place for March and April hiking before the cows are allowed onto the range. Spring is when the wildflowers bloom in this area: rosehip, balsamroot, lupine and mariposa lily. Spring is also when the shallow ponds are used by waterfowl, mostly ducks, that come to feed and nest.
The Bull River canyon, located at 8.1 km along the Bull River Road, is worth a stop. There are pullouts at both ends of the bridge.
Trail
From the parking spot just off Highway 3/93, hike or bike along the dirt road for about 5 km north to Bronze Lake. Hiking or biking along the roads provides direct access to the ponds or to the high points for views. The highest bump in the grassland of the Pickering Hills is N79820-E17587, at 1340 m (4,400 ft.). The roads are closed to motorized vehicles for seasonal wildlife protection, with signs posted. See the Hunting Regulations Region 4 for specific road closures and dates of closure.
Further explorations around the Bull River
Bull River spring walk
Drive 21.6 km from Highway 93/95 along Wardner/Fort Steele Road or 8.2 km from Highway 3/93 at the Wardner end by the Koocanusa Bridge.
Rating: easy
Time: short day hikes or bike rides
Elevation: Pickering Hills 880 to1370 m (2900 to 4,500 ft.)
Trail: old roads, grassy hills, shallow ponds, no defined routes
Maps: 82G/6 Elko (NAD27) 1:20,000 series; see 82G.043 1:20,000 and 82G.044 1:20,000 map for more detail
Directions
Road: any vehicle
Drive Highway 3/93 to the east side of the Lake Koocanusa bridge. The bridge is 32 km east of Cranbrook and 10 km west of Jaffray. The bridge is also beside by the Wardner end of the Wardner/Fort Steele Road.
0 km: From Highway 3/93 at the Koocanusa bridge, continue for 2 km southeast toward Jaffray.
2 km: Turn left (north) onto a small dirt road. Park anywhere along the roadway. Beyond the turnoff is a motorized vechicle closure marked with a sign.
Turn onto the signed Bull River FS Road. Bull River Road is a well-built, wide logging and industrial road in good condition. Watch for logging trucks or other heavy equipment. Road details under Bull River FS Road earlier in this chapter.
0 km: Wardner/Fort Steele Road at the junction with Bull River FS Road, signed.
2.3 km: Turn right onto a small road, and park.
Hike down toward the Bull River (south) on old roads, power line access and cattle trails. The route leads to a scenic S bend in the river, with cottonwoods lining the shore and springtime flowers growing in the grassland meadows. The best time to hike this small area is April or early May. If the area is closed, please respect the signs and do not trespass. (The area has been accessible for many early spring walks.)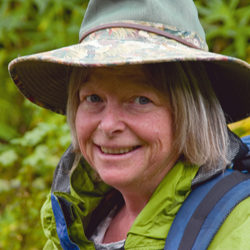 Janice Strong
Janice Strong is an established professional outdoor photographer. Her images grace collections all over the world and appear in many respected publications. She is passionate about hiking and is also an avid snowshoer and skier, exploring the outdoors of the East Kootenay in southeastern BC year round.
She openly shares her passion for the outdoors with others and has introduced hundreds of people to the joys of hiking. For a decade she led hikes for the City of Cranbrook – Parks and Recreation. With her guidance, many people have themselves become enthusiastic hikers.
Climbing mountains, finding new places and enjoying the experience of the journey have always been important to Janice. She cherishes the little things she sees along the trail, as well as the grand destinations.
When Janice is not writing, hiking or taking photographs, she is involved in various creative digital, website design or photographic projects for her clients. She and her husband, Jamie Levine, enjoy their rural property, near Cranbrook, BC.