The morning light crested the mountaintops as we cruised up Whiteswan Road. Through the pink light of dawn, a mist rose over Whiteswan Lake. Soft magenta and navy ripples of water curled over the rocky shoreline as we drove the quiet mountain road, on the way to the trailhead of Ptarmigan Lake.
The morning coolness quickly departed from the land as we climbed the trail. The air was motionless and stuffy on a scorching day in August. We reached the lake in less than three hours, and as we crested the rim of trail, the lake invited us to change into bathing suits and jump in the refreshingly cool water for an invigorating swim. Ptarmigan Lake water was brisk but not icy cold. Fish jumped and a solitary duck floated in the calm pool, undisturbed by our splashing.
Dense forest surrounds the small and circular Ptarmigan Lake. The impressive views of the nearly vertical, slate-grey cliffs of White Knight Peak, at 2600 m (8,600 ft.), frame the southern lakeshore. The rugged mountain cradles the lake's shimmering clear, deep, blue-grey water.
Ptarmigan Lake is a medium-elevation lake near Whiteswan Lake Provincial Park and makes a steep but rewarding hike. Few flowers thrive on this rocky, dry, north-facing slope along the trail.
In the heat of summer, no water flows in the barren creek channels, and even the moss-coated waterfalls typically are dry. (Water does return to these streambeds seasonally, though, and the mossy undergrowth flushes with springtime green.)
Trail
The final section of trail is very steep, gaining almost 210 m (700 ft.) in 500 m. The trail is well-defined and popular.
0 km: Parking. Trail continues straight from the end of the road.
2 km: Grade steepens significantly.
3.4 km: Ptarmigan Lake, N59900-E04300, at 1880 m (6,180 ft.).
Directions
Road: any vehicle; washboards; dusty in summer; over an hour on gravel; last 3 km barely suitable for a car; blocky rock; mud ruts; road may deteriorate, necessitating a high-clearance vehicle
May be summer only (late May to mid-November). Whiteswan Lake Provincial Park is open for skiing, but check with BC FS for winter road conditions. The turnoff for Whiteswan Lake Provincial Park is 5 km south of Canal Flats.
0 km: Turn east from Highway 93/95 onto Whiteswan Provincial Park Road, N51700-E88200.
10.8 km: Continue straight. Whiteswan Road descends quickly and is wide and bumpy with washboards and a steep drop-off on one side. It is a busy road, but usually in excellent condition.
17 km: Lussier Hot Springs (BC Parks outdoor hot springs by the road; see entry #52).
20 km: Continue straight at the four-way junction for Ptarmigan Lake, Whiteswan Lake and White River roads. (Turn right for Top of the World Provincial Park on White/Lussier FS Road. (Left fork goes to Alces/Moose Lake campground in Whiteswan Lake Provincial Park.)
23.5 km: Wind along the shores of Whiteswan Lake. It's a scenic and narrow, winding road with many blind corners. Busy in summer with tourist traffic.
28.7 km: Eastern edge of the lake.
29.4 km: Turn left (north) onto White/Moscow Creek FS Road, N57037-E10768, and drive north for a total of 5.5 km.
30 km: Continue straight (not the Home Basin Campground left fork).
35.5 km: Leave Moscow Creek Road and turn left (west) onto a small good road, N62215-E09122. (However, if you reach a prominent fork on White/Moscow Creek Road, you have gone too far. Backtrack south for 2 km and turn right (west) at the second small road branch.)
36 km: Within 500 m the small road splits. Take the right fork and the road bends west, then south. High-clearance may be required from here. Continue up the road, steep in places with rocky chunks of broken bedrock. (This small road may be closed for industrial logging.)
39.8 km: Park at the end of the small road, N61368-E05531, 4.2 km from White/Moscow Road.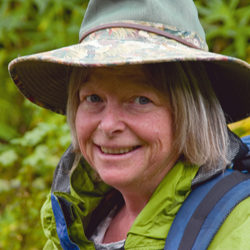 Janice Strong
Janice Strong is an established professional outdoor photographer. Her images grace collections all over the world and appear in many respected publications. She is passionate about hiking and is also an avid snowshoer and skier, exploring the outdoors of the East Kootenay in southeastern BC year round.
She openly shares her passion for the outdoors with others and has introduced hundreds of people to the joys of hiking. For a decade she led hikes for the City of Cranbrook – Parks and Recreation. With her guidance, many people have themselves become enthusiastic hikers.
Climbing mountains, finding new places and enjoying the experience of the journey have always been important to Janice. She cherishes the little things she sees along the trail, as well as the grand destinations.
When Janice is not writing, hiking or taking photographs, she is involved in various creative digital, website design or photographic projects for her clients. She and her husband, Jamie Levine, enjoy their rural property, near Cranbrook, BC.