Moderate but steep
Difficulty
The mountain topography around Ralph Lake is a rugged masterpiece in Height of the Rockies Provincial Park. The clear blue water of Ralph Lake is rimmed with light-grey limestone peaks. Mount Queen Mary, at 3230 m (10,600 ft.), is a limestone prominence that rises like a ship's bow straight up and angular out of the reflecting water. Subalpine larch and fir forests smooth out the visual transition between the 1-km oval lake and the sheer mountains all around. Inviting alpine meadows extend east of the lake in a level carpet.
Mount Queen Mary is one of the Royal Group of mountains that rise in a spectacular 9-km-long ridge in the northeast of HOTR Park.
An easily accessible mountain pass is southeast of Ralph Lake. Hike through alpine vegetation to the stark rock pass and appreciate views of the Royal Group. Each of these impressive and irregular peaks reaches to lofty heights over 3000 m: Mounts Prince John, Prince Edward and Prince Henry, and Mount King George at 3410 m (11,200 ft.).
Trail
The trail is steep and rough but well-defined and easy to follow. There are several large roots, rocks and blowdowns to climb over and around. The trail is not well-maintained, as Height of the Rockies Provincial Park is considered a wilderness area.
The lower part of the hike is through mature cedar and hemlock forest. Unfortunately, the previous decade of drought has reduced the lush green mosses and dense forest cover of this majestic old stand. Many trees are suffering, but the straight trunks and dappled light between the old cedars are still a marvel to enjoy.
The only spot with water along the entire route is at 4.4 km, on an avalanche path.
Near the lake, there is very rough "cabin" (if you can call it that) for public shelter. It has a dirt floor and is dirty, packrat smelly and holds three people, but it may be dry inside. There is no outhouse.
Camping at Ralph Lake is superb, however. Alpine meadows with creeks nearby and many sunny spots are sheltered by stands of alpine larch trees, creating perfect tent camping sites.
Soft carpets of vegetation welcomed our tent, and we spread out our backpacker's kitchen on the big rocks near the shore. As we enjoyed the fine campsite, the alpenglow toward sunset improved with each passing moment. The days spent exploring the pass, alpine meadows, ridges and lakeshore made the hike to Ralph Lake a memorable and pleasing excursion, one that I will repeat.
Further explorations
Scenic Pass views of the Royal Group mountains
Distance from Ralph Lake: 2.5 km
Elevation gain to the pass: 200 m (700 ft.)
Unnamed pass: N10327-E09065, at 2400 m (7,900 ft.).
This short easy hike climbs to a pass overlooking the spectacular view of the Royal Group. Hike southeast through alpine meadows and beside small tarns. Climb up a talus slope to an unnamed pass that is wide, shaley and level. The stark grey cliffs of Mount Queen Mary rise east of the pass.
Rating: moderate but steep
Time: day hike (3 to 4 hours) or multi-day backpacking,
Distance: 4.7 km
Elevation gain: 845 m (2,775 ft.)
Ralph Lake: 2145 m (7,040 ft.)
Pass views: Royal Group
Trail: continuously steep in forest; mature cedar hemlock to subalpine lake in HOTR
Maps: 82J/11 Kananaskis Lakes; 82J/12 Tangle Peak (NAD83)
Ralph Lake cabin, not a pleasant place to stay, but the camping is great.
Trail
0 km: Parking by trailhead sign. Hike 500 m up through an alder-congested skid road through an old logged area, gaining 110 m (300 ft.). The steep grade continues as the trail winds up through a mature cedar and hemlock forest.
4 km: This is the only rushing creek along the entire trail, N11855-E06745. On a level section in an avalanche slope, hear the creek pounding through the low brushy plants about 10 m off the trail. Elevation gain to this point is 685 m (2,250 ft.). The trail turns left (north) and climbs up the avalanche slope.
4.4 km: The scrambling section is just before reaching the lake, N12091-E07004. When the trail approaches a white rock wall with an overhang, follow the dirt trail down (right) and around the lower edge of the rock outcrop. There is a well-defined notch between the trees and the rock where you can moderately scramble up 16 m (55 ft.). (Don't head straight up the steep slope as soon as you see the rock wall. It is steeper and more difficult than the route I described above.) Crest the rock wall section and the trail levels out across semi-open forest. It is only 500 m more until you round a corner and see the lake.
4.7 km: Ralph Lake, N12106-E07271, at 2145 m (7,040 ft.). The first thing you see is the bold north flank of Mount Queen Mary towering in steps up from the reflective lake surface.
Directions
Road: high-clearance
See road directions details via Kootenay National Park and Palliser/Kootenay River FS roads.
Albert Creek FS Road
16.7 km: The third small bridge is 200 m before the turnoff (57 km sign). Turn right (east) (past 57 km sign) onto small unmarked dirt road almost overgrown with alders, N127700-E03688. It is 400 m farther to the trailhead.
17.1 km: Park at the end of the small road, signed trailhead for Ralph Lake, Height of the Rockies Provincial Park, 1300 m (4,265 ft.).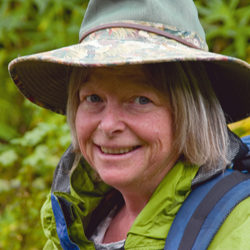 Janice Strong
Janice Strong is an established professional outdoor photographer. Her images grace collections all over the world and appear in many respected publications. She is passionate about hiking and is also an avid snowshoer and skier, exploring the outdoors of the East Kootenay in southeastern BC year round.
She openly shares her passion for the outdoors with others and has introduced hundreds of people to the joys of hiking. For a decade she led hikes for the City of Cranbrook – Parks and Recreation. With her guidance, many people have themselves become enthusiastic hikers.
Climbing mountains, finding new places and enjoying the experience of the journey have always been important to Janice. She cherishes the little things she sees along the trail, as well as the grand destinations.
When Janice is not writing, hiking or taking photographs, she is involved in various creative digital, website design or photographic projects for her clients. She and her husband, Jamie Levine, enjoy their rural property, near Cranbrook, BC.