Richmond Lake and Gold Run Lake are two subalpine lakes close together at the headwaters of Perry Creek. This is a gratifying circuit hike combining all the features of a southern Purcell hike, an accessible summit, easy routefinding, gentle slopes, some scrambling, some road, some trail and scenery of deep-blue lakes.
The landscape views are the smoothly eroded and forested mountains (with clear-cuts) of the southern Purcells, including Mount Flett and Grassy Mountain.
Hiking from either direction is fine on this route, but I prefer going from Richmond to Gold Run Lake. Access to the summit of Nogalski Peak, 2270 m (7,450 ft.), is on a more gentle slope when climbing from Richmond Lake. Descending for the bushwhacking section to Gold Run is easier going downhill as opposed to climbing up against the bush. If you do this traverse from Gold Run Lake, park at the Richmond Lake trailhead so you don't have to walk up the steep road at the end of the day.
Trail
0 km: Start at the Richmond Lake trailhead and hike upward 170 m (570 ft.).
1.1 km: Richmond Lake. Hike along the northern shore on intermittent trail to the western tarn. From the tarn, make your way northwest through open subalpine, brush and meadows, gaining elevation to 2230 m (7,330 ft.) and angling right (north) as you climb.
3.6 km: Southern ridge of Nogalski Peak, N73500-E 57800. At the rocky ridge, turn right and hike along the broken bedrock, following intermittent trails to the summit.
4 km: Nogalski Peak, N73610-E58180, at 2270 m (7,450 ft.). Hike just past the cairn at the summit and look downhill on the left (north) for a safe and steep route down. There is only a short steep section to scramble down with adequate foot and hand holds. Scramble down 40 m (130 ft.) to the alpine grassy meadows below on the steep sidehill.
4.3 km: Hike the meadows down to the top of a new rough-cut road up into the alpine, N73751-E58311. Hike down the steep road to Perry Pass.
5.3 km: Perry Pass, N74415-E58600, at 1985 m (6,513 ft.). A large, well-built, new road slashes across the pass and continues above Gold Run Lake. Hike right (east) on the road. This new road heads over Perry Pass to the headwaters of Hellroaring Creek and appears to link with the road at the trailhead of Gold Run Lake.
6 km: Anywhere above Gold Run Lake, descend through the false azalea bushes and forest down to the lakeshore.
6.3 km: Gold Run Lake, N74100-E59200, at 1860 m (6,100 ft.). Turn left (east) at the lakeshore and follow the good trail down.
7.3 km: Gold Run trailhead, N74000-E60000. Hike the rough road downhill (south).
8 km: Richmond Lake trailhead and circuit complete.
Directions
Road: high-clearance vehicle for the last several kilometres
Follow detailed road directions to Richmond Lake on Perry Creek Road.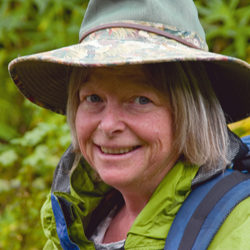 Janice Strong
Janice Strong is an established professional outdoor photographer. Her images grace collections all over the world and appear in many respected publications. She is passionate about hiking and is also an avid snowshoer and skier, exploring the outdoors of the East Kootenay in southeastern BC year round.
She openly shares her passion for the outdoors with others and has introduced hundreds of people to the joys of hiking. For a decade she led hikes for the City of Cranbrook – Parks and Recreation. With her guidance, many people have themselves become enthusiastic hikers.
Climbing mountains, finding new places and enjoying the experience of the journey have always been important to Janice. She cherishes the little things she sees along the trail, as well as the grand destinations.
When Janice is not writing, hiking or taking photographs, she is involved in various creative digital, website design or photographic projects for her clients. She and her husband, Jamie Levine, enjoy their rural property, near Cranbrook, BC.