The Saddleback Trail is mostly in coniferous forests, with some aspen groves. It is not until you gain most of the elevation toward the ridge that you see any views. At the ridge, look over at Yankee and Canuck lakes far below you, and on the eastern side of the Rockies look into several alpine tarns near upper Diorite Creek.
Only the beginning of this unmaintained trail is in the provincial park. Some years this trail is cut free of blowdowns (trimmed out by volunteers), while other years the lower part is a tangle of wind-tossed trees. Once on the trail, the route is straightforward: it goes up.
Trail
O km: Start the hike at the overflow campground/parking in Premier Lake Provincial Park, at the Yankee, Canuck and Turtle lakes trailhead. Follow directions to Yankee Lake. Instead of going first to Turtle Lake, head straight uphill to the outlet of Yankee Lake.
1.9 km: Outlet creek of Yankee Lake, an initial gain of 110 m (370 ft.). Leave the provincial park trail, step across the creek (south) and scout around for a defined trail. The trail winds around the valley bottom somewhat, and then an arduous climb begins.
9.5 km: The climb to Saddleback Ridge, N29067-E01825, at 2400 m (7,900 ft.), and back to the vehicle is a strenuous hike, taking about three to four hours one way.
Directions
Good gravel and pavement to Premier Lake Provincial Park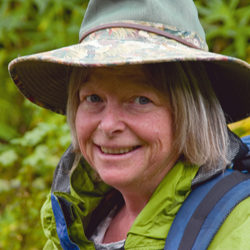 Janice Strong
Janice Strong is an established professional outdoor photographer. Her images grace collections all over the world and appear in many respected publications. She is passionate about hiking and is also an avid snowshoer and skier, exploring the outdoors of the East Kootenay in southeastern BC year round.
She openly shares her passion for the outdoors with others and has introduced hundreds of people to the joys of hiking. For a decade she led hikes for the City of Cranbrook – Parks and Recreation. With her guidance, many people have themselves become enthusiastic hikers.
Climbing mountains, finding new places and enjoying the experience of the journey have always been important to Janice. She cherishes the little things she sees along the trail, as well as the grand destinations.
When Janice is not writing, hiking or taking photographs, she is involved in various creative digital, website design or photographic projects for her clients. She and her husband, Jamie Levine, enjoy their rural property, near Cranbrook, BC.