"Shhh . . . we're going to Silent Pass," although the mosquitoes ensured it was never silent for long. Absorbed in the mountain grandeur, we spent days in the open alpine of the high country, exploring flower meadows and meltwater tarns. We appreciated the views of the Spillimacheen Glacier and many other nearby glacier-draped mountains.
All is still in the high mountains, except the water laden with glacial silt that grinds away the high Purcell Mountains. Waterfalls tumble and hiss off the ancient ice.
Silent Pass is a land of fabulous beauty and scenic diversity, and its appealing and diverse landscape invites explorations for a day or two. Rugged high peaks etched by receding glaciers line both sides of the valley. Wildflower meadows bloom for only about six weeks during the short, high-elevation summers. Myriad colours and shapes blanket the hillsides, and small creeks flow across the moss-covered alpine areas.
Spillimacheen Glacier looks down onto Silent Pass and the cascading runoff pours down into both East Kootenay and West Kootenay rivers. A short ridgewalk up from Silent Pass brings you down to the edge of the ice.
Silent Pass is a low-forested pass, and just north of the pass is the little gem called Silent Lake. This tiny, 500-metre-wide lake shimmers with reflections of the glacier, its shore rimmed in low, sloping meadows.
Silent Mountain, at 2621 m (8,600 ft.), stands 2.5 km northwest of Silent Pass. The boundary of Glacier National Park is only 4 km to the west. You can hike west 2.7 km up and down slopes and across flowered meadows and peer at peaks clad in glaciers towering over 3200 m (10,500 ft.) in Glacier National Park. Also from the meadow viewpoints, the slopes plunge below you 900 m (3,000 ft.) into the deep and steep-sided Beaver and Duncan rivers; separating the Selkirk Mountains from the Purcell Mountains.
Silent Pass below the Spillimacheen Glacier has small areas that are vibrant with summer wildflowers. Silent Lake is in the background.
Trail
0 km: Hike south from the parking spot at the end of McMurdo Creek FS Road.
900 m: Road forks. Take right fork to Silent Pass. (The left fork leads to the public-use McMurdo Cabin: see map.)
2.2 km: The road wraps around the end of the valley in a 600-m (2,000-ft.) switchback.
2.7 km: End of road; the trail heads up to the right (west) into the forest.
3.3 km: Cross riparian areas and a couple of small bridges. The trail climbs steeply for 106 m (350 ft.), up an avalanche slope.
4.3 km: The trail ascends gradually through subalpine meadows to Silent Lake, N55100-E87200.
Directions
Road: any vehicle, but washboards, rough spots and rocky sections
The town of Parson is 67 km north of Radium on Highway 95. Spillimacheen FS Road is busy with commercial logging traffic, and recreation drivers must be aware of fully loaded logging trucks and heavy equipment on the road during the spring, summer and autumn.
0 km: Turn west from Highway 95, N57891-E25300, just north of the Columbia Valley Elementary School to the signed Parson River Road. Cross the Columbia River bridge from the town of Parson. Spillimacheen FS Road has many side branches; stay on main FS road. (In the town of Spillimacheen, do not turn off the highway onto Westside Road. Keep heading north for another 28 km.)
17 km: Continue straight on Spillimacheen Creek FSR, (don't take left fork to Bobbie Burns)
23.4 km: Continue straight (left fork leads to nice Forest Service Recreation campsites Summit Lake, Loon Lake just after 23 km sign).
36 km: Continue straight (38 km sign).
46.3 km: Turn left, south (first left after 45 km sign), onto the signed McMurdo Creek FS road, N64263-E94155.
Reset odometer to 0.
McMurdo Creek FS Road is rough, but a sturdy car may be able to travel it.
0 km: Junction of Spillimacheen River FS Road and McMurdo Creek FS Road. Cross bridge. Another three crossings on good bridges at 1.7 km, 7.1 km (53 km sign) and 8.8 km.
3.7 km: Mudslide area, 2008 mudslide, but may slide again following heavy storms.
10.4 km: Park at end of the road (after 56 km sign), N57239-E88608, at 1600 m (5,244 ft.). Bridge pulled out.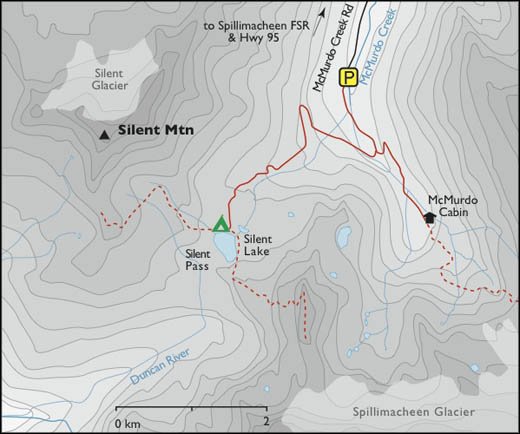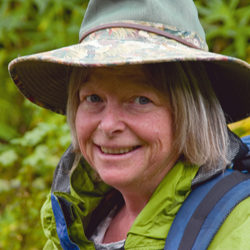 Janice Strong
Janice Strong is an established professional outdoor photographer. Her images grace collections all over the world and appear in many respected publications. She is passionate about hiking and is also an avid snowshoer and skier, exploring the outdoors of the East Kootenay in southeastern BC year round.
She openly shares her passion for the outdoors with others and has introduced hundreds of people to the joys of hiking. For a decade she led hikes for the City of Cranbrook – Parks and Recreation. With her guidance, many people have themselves become enthusiastic hikers.
Climbing mountains, finding new places and enjoying the experience of the journey have always been important to Janice. She cherishes the little things she sees along the trail, as well as the grand destinations.
When Janice is not writing, hiking or taking photographs, she is involved in various creative digital, website design or photographic projects for her clients. She and her husband, Jamie Levine, enjoy their rural property, near Cranbrook, BC.