Variable
Elevation Gain (m)
The South Star Cross-country Ski Trails are a cluster of short loop trails that wind through lodgepole pine and western larch forest. About 30 km to 50 km of easy and moderate cross-country ski trails lace the area, with tracksetting in winter for both classic and skate-style skiing. Hikers, mountain bikers or horseback riders can use the trails when the ground is clear of snow. Several kiosk trail maps are located throughout the trail network.
The trails are maintained and trackset by volunteers of the South Star Cross-country Ski Trails Society and memberships are appreciated to pay for trail upgrades and tracksetting. Memberships are available at outdoor stores or at the main kiosk 2.5 km from the trailhead.
Trail
Hike, ski or bike the trail from the parking spot. Take the right fork at the trailhead kiosk. The main information area, trail junctions and outhouse is 2.5 km south, just past the power line.
The trails are on the north side of Cranbrook Mountain and are good for mountain biking or hiking. The volunteers request that you don't bring your dog on most of the tracked ski trails, but a new track that allows dogs was opened during the winter of 2008–2009.
Directions
Road: any vehicle
In Cranbrook on Highway 3/95, turn south on Victoria Avenue, a main intersection at south end of Tamarack Mall. Victoria Avenue takes several bends and when it leaves the city its name changes to Gold Creek Road.
0 km: Gold Creek Country Store, right side of Gold Creek Road.
1.3 km: turn right (south) on 38th Avenue South.
4.3 km: Drive south on 38th Avenue for 3 km to the end of the road. Park by a gate, which is the trailhead for Cranbrook Mountain and South Star Cross-country Ski Trails. Please don't block the turnaround; park facing downhill out of the way of the turnaround.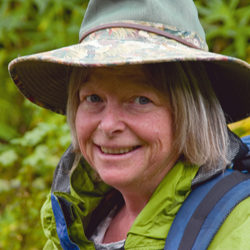 Janice Strong
Janice Strong is an established professional outdoor photographer. Her images grace collections all over the world and appear in many respected publications. She is passionate about hiking and is also an avid snowshoer and skier, exploring the outdoors of the East Kootenay in southeastern BC year round.
She openly shares her passion for the outdoors with others and has introduced hundreds of people to the joys of hiking. For a decade she led hikes for the City of Cranbrook – Parks and Recreation. With her guidance, many people have themselves become enthusiastic hikers.
Climbing mountains, finding new places and enjoying the experience of the journey have always been important to Janice. She cherishes the little things she sees along the trail, as well as the grand destinations.
When Janice is not writing, hiking or taking photographs, she is involved in various creative digital, website design or photographic projects for her clients. She and her husband, Jamie Levine, enjoy their rural property, near Cranbrook, BC.