Nominal
Elevation Gain (m)
One July a rapid melt from the adjacent summits deepened the clear still water of Summer Lake to about 4–5 m above its normal level. It was amazing to peer into the crystal-clear water and see the picnic tables, blooming wildflowers and bright green, fully leafed branches of the cottonwoods – all waiting – submerged under metres of water.
Summer Lake is an oval, navy-blue lake hidden at the base of the impressive Rocky Mountains on a tributary of the Bull River. High above the lake to the east, towers of light-grey rock stretch upward for hundreds of metres on mountains with dominant names such as Empire State Peak and Chrysler Peak. Crags and fins of rocks rim the entire Summer Lake basin.
Summer Lake is not spectacular for scenery, but it is beautiful and peaceful and worth a scenic drive for a day hike, camping weekend or a picnic and short lakeside walks. Old roads ring halfway around the 2-km-long lake. Camping and picnic sites lie along the eastern lakeshore.
Further explorations
If you are at Summer Lake for a few relaxing days, visiting the tiny Ruault Lake is a good day trip to get your blood moving again. The hike involves mostly hiking on old roads, but has some bushwhacking and routefinding through scratchy subalpine bush. Ruault Lake is a tiny shallow figure-eight-shaped, blue-grey tarn about a half a kilometre long. The tarn has steep grassy and rocky slopes surrounding three sides.
Rock slides tumble from the cliffs high up on Mount Ruault, an impressive white rock peak of limestone, south of the lake. On the western slope a steep grassy avalanche slope rises to the ridge above Bear Lake.
The route from Summer Lake, via Ruault Lake to Bear Lake is not worth it for a crossover traverse, as the car shuttle is several hours long.
Ruault Lake
Distance: Ruault Lake 6.4 km from Summer Lake
Elevation gain: 530 m (1,740 ft.)
Trail: old road,; routefinding to small subalpine tarn
Ruault Lake: 2070 m (6,800 ft.)
Trail and Route to Ruault Lake
From the campsite on Summer Lake, N13700-E15300, hike the road around the northern third of Summer Lake. In less than 1 km turn right onto an old road leading uphill (west). Climb the road for 3.5 km and gain 450 m (1,500 ft.) elevation to where the road ends at 1860 m (6,100 ft.).
At the top of the road, hike to the top of the logging block, turn left into the lush plants and head southwest. Gain about 120 m (400 ft.) from the end of the road to Ruault Lake. The upper reaches of the route are in spruce and fir forests, sliced by avalanche paths and logging. These lush slopes host alders, grasses, huckleberries, fireweed and false hellebore, with a dense growth of woody and annual plants. The bushwhacking is not difficult or steep, but you have to keep on track with a GPS or compass.
At the eastern side of Ruault Lake there is a soft grassy meadow and a relaxing place to spend an autumn or summer afternoon, N13994-E11387.
Directions
Road: last 20 km is high-clearance in good condition
Summer Lake is a 1.5-hour drive from Fort Steele. See detailed road directions from Wardner/Fort Steele. All the bridges on Summer Lake Road were new in 2008. Park at the FS rec site on the shore of Summer Lake.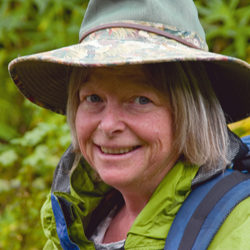 Janice Strong
Janice Strong is an established professional outdoor photographer. Her images grace collections all over the world and appear in many respected publications. She is passionate about hiking and is also an avid snowshoer and skier, exploring the outdoors of the East Kootenay in southeastern BC year round.
She openly shares her passion for the outdoors with others and has introduced hundreds of people to the joys of hiking. For a decade she led hikes for the City of Cranbrook – Parks and Recreation. With her guidance, many people have themselves become enthusiastic hikers.
Climbing mountains, finding new places and enjoying the experience of the journey have always been important to Janice. She cherishes the little things she sees along the trail, as well as the grand destinations.
When Janice is not writing, hiking or taking photographs, she is involved in various creative digital, website design or photographic projects for her clients. She and her husband, Jamie Levine, enjoy their rural property, near Cranbrook, BC.