This area is a labyrinth of twisted trails, shortcuts and roads without a single directional sign. After a day of wandering, I have managed to make this easy for you. The elevation gain is minimal at 156 m and the distance is short, but the viewing at the summit is expansive.
Shuswap Lake's Tappen Bay seen from Sunnybrae Cliffs looking north.
The trail starts across the road from the Sunnybrae parking lot. The trail is a single-wide path that begins by climbing immediately, but the climb only lasts for about five minutes. Shortly after the trail levels out, a narrower one approaches from the left. Both trails merge a short distance ahead.
The route soon enters a large clearing. The path is picked up at the far end of the clearing as an overgrown dusty road. Strolling along this road, enjoy the fantastic view of Shuswap Lake. You may also notice some residential housing below the embankment on your right.
A few short minutes later, this overgrown road meets a gravel road coming up from the residential area. Turn left up this road, and within barely one minute take the first narrow path that leaves the gravel road on your left. This narrow shortcut starts to climb slightly.
Five to 10 minutes up this trail, an additional trail approaches from the right – continue straight.
Another five to ten minutes later the trail connects with the original gravel road it departed from.
Soon after picking up the gravel road, the trail splits; make sure you take the left branch.
Within a few minutes, you arrive at the summit of the bluffs and you are presented with some of the most sensational scenery in this part of the planet. Be careful, though: the edge is steep and the drop is long.
If you feel like exploring a bit more, the trail continues as a wonderful ridge walk for 10 to 15 minutes, finally ending in a very large private farmer's field.
Return the same way.
Directions
From downtown Salmon Arm, travel 15 km west on the Trans-Canada Highway and make a right turn onto Sunnybrae Canoe Point Rd. Drive 3.4 km and park in the Sunnybrae parking lot, on the right (lake) side of the road.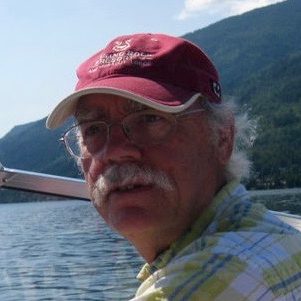 Gerry Shea
Gerry Shea lives in Kamloops with his wife and children and he is also the author of The Aspiring Hiker's Guide 2: Mountain Treks in British Columbia.