Variable
Elevation Gain (m)
In a steady drizzle we began our five-day backpacking trip to Sylvan Pass and Limestone Lakes from the end of Palliser/Joffre Creek FS Road. Dreary clouds and showers followed us as we climbed. A damp chill edged into our clothes. Cold, damp and tired, we had gained over 1000 m (3,280 ft.) and we wanted to stop. However, the forested Joffre Creek valley sloped too much and we couldn't find a campsite.
To avoid lashing my hiking partner with grumpy complaints, I forced my mind to other thoughts. I pondered about the first people who hiked in the area – the Ktunaxa hunters (Kootenay people). We hiked on trails that archaeologists linked to 8,000 years of human use. I wondered: had they really traversed the same trail searching for game that I walked on searching for a campsite? In approaching darkness, we finally found a lumpy spot for our first camp, about 1 km downslope from the pass.
In the morning we peeked out of our tent to sunshine. Warm, healing sunshine! As we casually hiked up to the pass, we discovered an abundance of excellent campsites in the upper Joffre Creek meadows. From the meadows it is an easy stroll up to the alpine, shale-covered Sylvan Pass at 2300 m (7,600 ft.). The impressive sheer grey walls of Mount Joffre at 3449 m (11,300 ft.) towered above Sylvan Pass, and wildflower meadows swayed in the summer breeze. We gazed south as erratic storms still prowled across the high peaks. The view enthralled us. The eastern side of the middle fork of the White River featured an extraordinary mountain range, and for me it epitomized the park's powerful namesake. This place is truly "Height of the Rockies."
Topographical maps, mountain routefinding skills and a GPS are almost essential on this multi-day wilderness hike to Limestone Lakes. Remember that there is no water along the route.
The hike to Sylvan Pass is a long day on a partially forested trail that steadily gains elevation and steepens to frequent switchbacks near the pass. There is no water on the last several kilometres approaching Sylvan Pass. Only a few small springs near the pass.
Limestone Lakes
From Sylvan Pass the trail ends and it is mountain routefinding to Limestone Lakes, taking most of a day. The chain of narrow, glacial, grey-green lakes is in the high alpine surrounded by smoothly eroded limestone. Soil fills in pockets between the rock, where heathers and alpine vegetation prevail. The view from Limestone Lake east is to the jagged Italian Group of the Rockies.
From Sylvan Pass the route to Limestone Lakes below looked like crisp pavement. It appeared surreal and absolutely flat. We thought hiking across the limestone would be wonderfully easy. At closer observation, however, the route was a maze of broken and sharp spikes. The plateau of conical fangs of limestone traverses about 2.5 km. Resistant to erosion, the stone is sculpted in fascinating shapes and gouges. The route across is very hard to walk on, as the points vary in height from 10 cm to 30 cm.
Large ramps and inclines of unevenly eroded limestone further jumbled the landscape with 3- to 4-m-high blocks that we had to hike up and over to a series of ridges and cliffs. It was hard to find your way forward. Friends called this area "spiny desert" and they found an improved route.
Horizontal peninsulas of rock stretched like runways into the icy green lake. Meadows of sparse and smooth vegetation invited us to stay.
Limestone Lakes is a series of high-alpine tarns between Joffre Creek and the middle fork of the White River.
Trailhead to Limestone Lakes three-day minimum, four- to six-day backpacking trip
Total distance: 18 km
Total elevation gain: 1190 m (3,900 ft.)
Maps: 82J/11 Kananaskis Lakes (NAD83); 82J/6 Mount Abruzzi (NAD27)
Trail map road map only
Sylvan Pass
Rating: moderate to long
Time: full day hike
Distance: 12 km to Sylvan Pass
Elevation gain: 900 m (2,900 ft.)
Sylvan Pass: 2300 m (7,600 ft.)
Trail: forested, rugged; many fallen trees; indistinct in places to alpine pass
Sylvan Pass to Limestone Lakes
Rating: moderate to rugged; routefinding
Time: day hike with overnight backpack
Distance: 6 km Sylvan Pass to Limestone Lakes
Elevation gain: about 300 m (1,000 ft.); many rugged ascents and descents; Limestone Lakes 2470 m (8,100 ft.)
Trail: routefinding; steep forest; sharp limestone
Drive
Road map: Northern Rockies and Height of the Rockies
Road: high-clearance vehicle
Detailed directions earlier in this chapter; Kootenay National Park to Palliser/Kootenay/Joffre FS roads.
24.8 km: Trailhead is at the confluence of Joffre Creek and the Palliser River. Parking spot is a wide cleared landing suitable for vehicle campsite, N03126-E19822.
Sylvan Pass
Sylvan Pass is the divide between Joffre Creek and the middle fork of the White River.
0 km: From the parking spot, cross a good bridge over the turbulent, milky, glacier-fed Joffre Creek. The forested trail meanders on flat ground for the first 1 km. You want to be heading east, upstream. The main Joffre Creek trail is a rugged horse trail beginning along the north bank of the steeply tumbling creek.
2 km: The creek bends south and the trail steadily departs from the creekside as it traverses high up along the forested hillside. Several tangles of downed trees and avalanche debris frequently obscure the route. The trail was brushed out in 2006 and some of it again in 2008. The lower elevations consist mostly of lodgepole pine. The trail gradually climbs through the dark and dense stands of spruce and fir. The trail offers few openings for viewing the surrounding mountain scenery.
5.5 km: At a red marker reading 3.5 km, cross a small tributary by jumping between slippery round rocks. This creek may deepen suddenly after several hot summer days when meltwater from the glaciers above substantially increases, or after a big storm.
6.5 km: About 1 km beyond the ford, arrive at the first horse campsite at 1600 m (5,250 ft.), near the 4.5 km red marker. A second tributary sprawls across a marsh by the horse campsite. This may be hard to find here. The trail heads south through the rivulets and thickets into the muddy marsh and brush. The grade levels out for about 2 km in lush meadows.
7–9 km: As the trail climbs higher, alpine meadows begin to mesh into the forest and eventually the meadows dominate the plant ecosystem. Steady switchbacks and no water is this section.
12 km: Sylvan Pass, N97700-E25600.
Sylvan Pass to Limestone Lakes (also known as Westside Lakes on some maps)
There are no trails from Sylvan Pass to Limestone Lakes and no water.
0 km: Sylvan Pass. Don't drop off the south side of the pass into the middle fork of the White River valley, because Limestone Lakes is located one valley to the west and about 6 km south. By routefinding west from Sylvan Pass but staying at about the same elevation, head west into the forest. Do not drop off immediately into the western side of the forest. Instead, make your way gradually north and angle downward, following game trails. Descend into a sun-drenched meadow below a huge cliff.
1.5 km: Instead of plowing straight ahead south and into the "spiny-desert" of sharp limestone (it is not only hard to walk on but the spikes are fragile), turn right (west) from the meadow and climb about 50 m up a steep slope. Reach the top of a giant ramp and follow this rock ramp south all the way to the lakes.
5.5 km: Crest the ridge overlooking Limestone Lakes and descend 139 m (450 ft.) on alpine rock and some talus to the lakeshore.
6 km: Limestone Lakes, N93600-E25200, at 2470 m (8,100 ft.).
Limestone Lakes is a series of high-alpine tarns between Joffre Creek and the middle fork of the White River.
Limestone Lakes at sunset. Alpenglow with the Italian Group of Mountains in the background.
Lower Elk Lake often reflects the mountains surrounding it. Its deep grey water is partially opaque from suspended limestone rock dust.
The summit of Mount Aosta with Jamie on the hiking trail to Fox Lake and a meadow of wildflowers in Elk Lakes Provincial Park.
Elk Lakes Provincial Park
Elk Lakes Provincial Park
Elk Lakes Provincial Park is a wilderness park at the headwaters of the Elk River. The park features rugged mountain scenery of light-grey sedimentary mountains. Many exposed faults and cliffs rise above large, deep, slate-coloured lakes. The high country of Elk Lakes Park features extensive glaciation and rugged limestone alpine tundra.
The hiking is suitable for beginners and experienced backcountry adventurers alike. For the adventurous hiker, there are challenging treks into the remote high country. Similar to other neighbouring Rocky Mountain topographies, such as Banff National Park, Height of the Rockies Provincial Park on the western border, Mount Assiniboine Provincial Park and Peter Lougheed Provincial Park (Kananaskis) in Alberta hugs its northern and eastern borders.
BC Provincial Parks
Elk Lakes Park is in wilderness. There are no supplies, and cell-phone communications are not available. The park's website, www.env.gov.bc.ca/bcparks/explore/parkpgs/elk_lk/hiking.html, has a park map and information on camping and other accommodation.
History
The area officially became part of the BC mountain parks as a Class A park in 1973. Cadorna Creek (also called the west fork of the Elk River) was proposed to be included in 1977. It took almost 20 years, and finally in 1995 the Cadorna Creek area became part of the expanded Elk Lakes Provincial Park. The park now includes the land up to the border of HOTR, completing a continuous mountain wilderness all the way to Jasper National Park in Alberta.
Primitive campsites are located at Cadorna Lake and Wolverine Lake. An active guide outfitting territory and a trapline still exist in the Cadorna Creek area. BC Parks permits snowmobile use at Cadorna Creek but not in the Elk Lakes area.
Drive to Elk Lakes Provincial Park
Road: high-clearance or sturdy car; washboard ruts; very dusty in summer
Maps: 82J/11 Kananaskis Lakes (NAD83); park's visitor core
Road Maps: 82J/6 Mount Abruzzi (NAD27); 82J/7 Mount Head (NAD27); 82J/2 Fording River (NAD27)
From Highway 3 at Sparwood, turn north onto Highway 43 and drive to Elkford. Continue on the main road past Elkford, heading north on Elk River FS Road for another 65 km on a rough, washboard, gravel road to a parking lot at the end of the road. (Could be 70 km, as distances vary appreciably between vehicles' odometers.) The road is dusty in summer, but suitable for a sturdy car. It takes about two hours to drive from Elkford north to Elk Lakes Provincial Park.
0 km: Elkford on Highway 43. Pass many side branches.
27 km: Forsyth Creek.
43 km: Weary Creek FS Rec Site for camping by creek.
44 km: Take left fork.
48 km: Continue straight (not left at Cadorna Abruzzi). This part of Elk Lakes Park is for horse use and long backcountry trips.
53 km: Riverside FS Rec Site for camping.
59 km: Tobermory FS Rec Site; small cabin along roadway. At the cabin, turn right (north) for Elk Lakes Park.
60 km: Upper Elk River FS Rec Site on left; good tent camping on a large meadow by the river, with views, near the end of the road.
65 km: Elk Lakes Provincial Park at the end of the road.
Peter Lougheed Provincial Park (Kananaskis)
Elk Lakes Provincial Park can also be accessed from Alberta's Peter Lougheed Provincial Park. Park at the Elk Pass parking lot and follow the trail for 7 km, gaining 230 m (750 ft.) across West Elk Pass at the Alberta–BC boundary. See Kananaskis Country Trail Guide, by Gillean Daffern.
Along Upper Elk Lake are intriguing examples of syncline formations, where the rocks feature dramatic curves.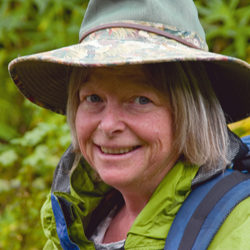 Janice Strong
Janice Strong is an established professional outdoor photographer. Her images grace collections all over the world and appear in many respected publications. She is passionate about hiking and is also an avid snowshoer and skier, exploring the outdoors of the East Kootenay in southeastern BC year round.
She openly shares her passion for the outdoors with others and has introduced hundreds of people to the joys of hiking. For a decade she led hikes for the City of Cranbrook – Parks and Recreation. With her guidance, many people have themselves become enthusiastic hikers.
Climbing mountains, finding new places and enjoying the experience of the journey have always been important to Janice. She cherishes the little things she sees along the trail, as well as the grand destinations.
When Janice is not writing, hiking or taking photographs, she is involved in various creative digital, website design or photographic projects for her clients. She and her husband, Jamie Levine, enjoy their rural property, near Cranbrook, BC.