Variable
Elevation Gain (m)
The deep-blue water of Tanglefoot Lake sparkles in the afternoon light, and alpine larch trees crowd along the shore. Reflections of Mount Fisher (the eastern side of this prominent mountain) shimmer in this 300-m-wide triangular lake.
Visiting Tanglefoot Lake and Windy Pass makes an exceptional day hike. The hike to Tanglefoot Lake is my personal favourite. It has everything in a single, compact alpine region, from high ridges, to larch forests, great views and carpets of wildflowers.
As a nature photographer, capturing the moment is not as easy as clicking the shutter. To find the wildflowers in perfect bloom, under a shining blue sky with no forest fire smoke and no wind, is a tall order; we have been trying for many summers.
On one exceptional day at Tanglefoot Lake, all the elements came together. The day began with crisp dew on the plants, the flowers along the trail were swaying beautifully on their slender stems and the clouds forecast for the afternoon were not materializing. Blue sky followed us to the lakeshore. We set up and after hours of photographing, we created many ideal images, culminating in the cover shot for this book.
Further explorations
Five Passes Trail
Windy Pass is also part of the Five Passes trail that connects alpine passes via Mause, Sunken, Dibble, Bear and Tanglefoot passes in a long and satisfying alpine and subalpine loop traverse. See entry #39.
Rating: moderate
Time: day hike to Windy Pass
Trail: small creek crossings; talus slope; steep sections; well-worn trail
Maps: 82G/11 Fernie (NAD27); 82G/12 Cranbrook (NAD83)
Trail map
To Tanglefoot Pass
Distance: 3.5 km
Elevation gain: 535 m (1,750 ft.)
Tanglefoot Pass: 2345 m (7,369 ft.)
To Tanglefoot Lake
Distance: 4.3 km from trailhead at Mause Creek
Tanglefoot Lake: 2100 m (6,900 ft.)
Descend from pass: 143 m (470 ft.)
To Windy Pass
Distance: 6.7 km from trailhead at Mause Creek
Elevation gain: Tanglefoot Lake to Windy Pass 314 m (1,030 ft.)
Windy Pass: 2418 m (7,936 ft.)
On the northern shore of deep Tanglefoot Lake is a rocky shallow bay lined with larch trees in their golden autumn colours.
Trail
0 km: Mause Creek parking lot. Hike to the Mause Creek tarns and up to Tanglefoot Pass.
3.5 km: Tanglefoot Pass, N96438-E12069, at 2345 m (7,369 ft.). Head across the sidehill right (east) on a rocky slope trail with some talus sections to cross.
3.8 km: Leaving the talus slope, enter a grassy meadow and turn downhill on a trail at the top of steep, north-facing gully, N96441-12326, at 2208 m (7,245 ft.). Follow the gully trail down by flowers and tiny springs. For a quick view down into Tanglefoot Lake, hike about 50 to 100 m east from the top of the gully, to a rocky outcropping. Backtrack to the top of the gully to complete the hike to Tanglefoot Lake.
4.4 km: Cross the creek on big, flat-topped boulders at the lake outlet. Turn right along the trail and in 300 m come to a primitive bush campsite by a huge boulder. The trail continues in the forest and starts to wind along the eastern slope. At the other end of the lake, the trail gains elevation gradually on its way to Windy Pass, beside other tarns and through larch forests. The final section to the pass is up steep alpine rubble. The pass is on a wide, smooth, alpine ridge.
7.3 km: Windy Pass, N95465-E14063, at 2418 m (7,936 ft.). Climb to the summit just left (north) of Windy Pass to see Dibble Glacier, the only remaining glacier in The Steeples mountains. Cliff Lake is the long thin lake you see below and north of the summit, 480 m (1,600 ft.).
Directions
Road: high-clearance truck or 4x4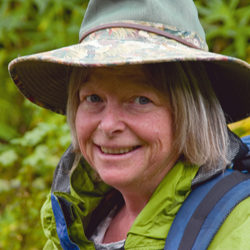 Janice Strong
Janice Strong is an established professional outdoor photographer. Her images grace collections all over the world and appear in many respected publications. She is passionate about hiking and is also an avid snowshoer and skier, exploring the outdoors of the East Kootenay in southeastern BC year round.
She openly shares her passion for the outdoors with others and has introduced hundreds of people to the joys of hiking. For a decade she led hikes for the City of Cranbrook – Parks and Recreation. With her guidance, many people have themselves become enthusiastic hikers.
Climbing mountains, finding new places and enjoying the experience of the journey have always been important to Janice. She cherishes the little things she sees along the trail, as well as the grand destinations.
When Janice is not writing, hiking or taking photographs, she is involved in various creative digital, website design or photographic projects for her clients. She and her husband, Jamie Levine, enjoy their rural property, near Cranbrook, BC.