It takes a special kind of anticipation to get sleepy hikers out of bed at 5 a.m. to climb a high mountain. Such was the case in July when we hiked up Teepee Mountain.
Teepee Mountain and its sister, Mount Stevens, are the highest mountains above Wasa Lake on the Rocky Mountain skyline. Teepee appears as a flattened cone with a uniform profile rising from an alpine ridge. The long hike up Teepee Mountain climbs over two distinct summits: Mount Stevens and, about 1.5 km farther north, Teepee Mountain. The summit hike to both peaks is over broken talus and some loose rock.
The Rocky Mountains unfold and sculpt the landscape to the horizon to the east. To the west, the Kootenay River valley sprawls over the lowland Rocky Mountain Trench and Lazy Lake sparkles far below.
A trek to Teepee Mountain might be a good training hike before trying the much harder climb up Mount Fisher. The views from Teepee are just as rewarding as the prominent and popular Fisher, to the south. The difference is that the climb up Teepee is on a moderate- grade trail reaching to a high, open and congenial ridge. Teepee's attraction is also much more subtle, as it doesn't tower above its neighbours quite so dramatically as Fisher. Mount Fisher is only 60 m (200 ft.) higher than Teepee Mountain.
There is no water available. On a hot day bring at least two or three litres per person. Also pack extra clothing to wear on the exposed and windy ridges.
Further explorations
Fay's Lake to Teepee Mountain
You can reach Teepee Mountain via a backpacking trip from Fay's Lake. It is a fine day hike among larch stands, alpine tarns and a summit hike to Teepee Mountain.
Estella Mine
Estella Mine is an abandoned mine site near the ridgetop of the Rockies. The mine is almost at treeline, and by climbing up a steep, open, grassy slope from the mine, gaining 450 m (1,500 ft.), you can walk on the high wide ridge at 2400 m (7,900 ft.). Once at the ridge you can hike for hours on the open alpine of the Rockies. The ridgewalk above the Estella Mine makes a nice day hike.
Drive to Estella Mine
Follow Lewis Creek Road past the Mount Stevens trailhead, and in another 7.9 km take the right fork, N16660-E01352.
Continue up a series of switchbacks and the road deteriorates. I do not recommend driving much beyond the second switchback, N16400-E00967, 10 km from the Mount Stevens trailhead (or 25.8 km from Lazy Lake Road). ATV the final 6.9 km.
A hang-glider take-off ramp is at 12.4 km, N17100-E00147.
The mine, N14200-E00374, is 32.7 km from Highway 93/95 (16.9 km from Mount Stevens trailhead). The mine is at the headwaters of Tracy Creek.
Rating: moderate to Stevens Pass then difficult to Teepee Mtn.
Time: long full day
Distance: 5.2 km to Mount Stevens and 1.5 km farther to Teepee Mtn.
Elevation gain: 1494 m (4,900 ft.)
Mount Stevens: 2656 m (8,717 ft.)
Teepee Mountain: 2774 m (9,100 ft.)
Trail: long, steep, forested trail; extensive elevation gain to moderate exposure on alpine ridge; two high Rockies summits
Map: 82G/13 Skookumchuck (NAD27)
Trail to Teepee Mountain via Mount Stevens
0 km: Trailhead. Hike most of the way up through the immature Douglas fir forest that obscures the views. Ground-covering Canada bunchberry is a highlight on the green forest floor. Sweat your way up the relentless forested path to the old burn, where finally the trail breaks out of the trees into the subalpine.
3.6 km: Finally, a peek at the BC Rockies! Continue in the forest up the wide graded trail to the pass, at treeline.
4.7 km: Mount Stevens Pass, N21300-E02800, at 2578 m (8,459 ft.). From the pass continue to climb up another 78 m (250 ft.) north (left) along the rocky, moderately exposed alpine ridge to the top of Mount Stevens.
5.2 km: Mount Stevens, N21720-E02607, at 2656 m (8,717 ft.). Some hikers stop here, but for Teepee Mountain descend 90 m (300 ft.) to a second pass. After the second pass, a rock ledge crosses an exposed slope for a short way. Climb another 183 m (600 ft.) higher to the summit of Teepee Mountain.
6.7 km: Teepee Mountain, N23100-E02400, at 2774 m (9,100 ft.).
Directions
Road: any vehicle; washboards; road gains 760 m (2,500 ft.) of elevation
The Wasa Lake Park Drive is a loop road circling the popular Wasa Lake with its public beaches, campgrounds and facilities.
0 km: Turn east from Highway 93/95 onto the south end of Wasa Lake Park Drive.
400 m: Turn right (southeast) onto paved Lazy Lake Road, at the southeast corner of the loop road. The road winds by ranches. Pass two roads coming off to the right.
10.4 km: Turn right (east), N17647-E98398, onto a small gravel road signed Lewis Creek. The turnoff is just before the road drops down to Lazy Lake. If you can see Lazy Lake you have gone too far.
11.8 km: Cross a small bridge (1.9 km from Lazy Lake Road). From here the road steepens and gains elevation up a series of washboards and switchbacks.
13.4 km: Left fork.
14.4 km: Continue straight, avoiding the left fork at a switchback. Grade flattens in the wide Lewis Creek basin.
15.8 km: Turn left onto a very small road, signed BrA, N18789-E01032, as the main road makes a tight sweeping right curve (5.4 km from Lazy Lake Road).
15.85 km: In 50 m there is a wide clearing, the BC Forest Service Mount Stevens trailhead sign and parking for a few vehicles by a small creek.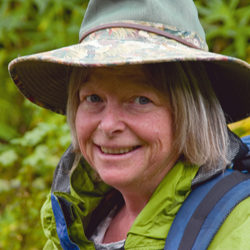 Janice Strong
Janice Strong is an established professional outdoor photographer. Her images grace collections all over the world and appear in many respected publications. She is passionate about hiking and is also an avid snowshoer and skier, exploring the outdoors of the East Kootenay in southeastern BC year round.
She openly shares her passion for the outdoors with others and has introduced hundreds of people to the joys of hiking. For a decade she led hikes for the City of Cranbrook – Parks and Recreation. With her guidance, many people have themselves become enthusiastic hikers.
Climbing mountains, finding new places and enjoying the experience of the journey have always been important to Janice. She cherishes the little things she sees along the trail, as well as the grand destinations.
When Janice is not writing, hiking or taking photographs, she is involved in various creative digital, website design or photographic projects for her clients. She and her husband, Jamie Levine, enjoy their rural property, near Cranbrook, BC.