Moderate, Routefinding
Difficulty
The name Thunderwater conjures up images not just of water but of churning, splashing, falling water. This hike features an abundance of moving water, frozen water, scenic tumbling cascades, icy creek crossings and damp meadows. Fording creeks is typical of remote alpine hiking, but this hike crosses glacial creeks with fast current and fluctuating, melting-ice runoff.
Thunderwater Lake is an amazing, high-elevation, turquoise, alpine lake stretching out in a 2-km-long, glacier-hewn, oval valley at the headwaters of Forster Creek. Thunderwater and Whirlpool lakes both tuck below the flanks of Catamount Glacier.
Thunderwater Lake is the largest lake in the vicinity, and along its northern shore sparkling springs trickle between grassy mounds, where brightly coloured wildflowers spread over the moist slopes. The landscape is vibrant with colour for just a couple of weeks in early August.
Only 60 m (200 ft.) higher than Thunderwater Lake hides indigo-coloured Whirlpool Lake. Larch trees and slopes of wildflowers are sparse along its bleak shores. Granite rock rims the slopes, where snow and ice still dominate from the last ice age. Whirlpool Lake is nonetheless beautiful in its own way.
Rising in smooth folds south of these two[…]"
Excerpt From: Janice Strong. "Mountain Footsteps: Hikes in the East Kootenay of Southeastern British Columbia." iBooks.
Trail
0 km: Parking at the end of Forster Creek Road, N11630-E34851, at 1670 m (5,500 ft.). Cross the light-blue Forster Creek on a well-built bridge. Follow the remnants of an old road west, parallel to the creek. The trail is well-used by snow machines, so it's in fairly good shape.
600 m: Cut-off trail rips off a road switchback, saving only about 200 m.
1.2 km: Windermere Valley Snowmobile Society cabin built in 2000, called Forster Cabin.
1.9 km: Cross creek twice within 50 m.
2.4 km: Trail ends. Hug the south (left) side of the wet meadows, following bits of trail through semi-open forest.
2.8 km: Large, white moraine. For Thunderwater Lake stay at the same elevation and cross over the mound of the moraine. Sketchy flagging and some cairns mark the way. About halfway across the moraine, the defined trail for Olive Hut and Catamount Glacier, N11732-E32482, branches left (south) and ascends the rocky moraine (with the steeply bouncing Scotch Creek on your right).
3 km: Large Scotch Creek. Wade in the shallows near the confluence with Forster Creek. Stay south of Forster Creek and hike near the centre[…]"
Excerpt From: Janice Strong. "Mountain Footsteps: Hikes in the East Kootenay of Southeastern British Columbia." iBooks.
Directions
Road: 2WD; last 1.5 km 4x4 high-clearance
See also Forster Creek, Horsethief Creek earlier in this chapter for details of roads to Horsethief Creek and Forster Creek from Radium, and from there to Welsh Lakes road directions for Forster Creek FS roads. From the four-way junction of Westside Road and Horsethief Creek Road, drive 33.4 km to the end of Forster Creek FS Road (42 km sign), at 1670 m (5,500 ft.), N11630-E34851 (6 km beyond the Welsh Lakes turnoff, found under #11 Welsh Lakes)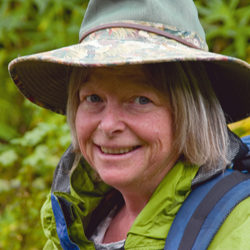 Janice Strong
Janice Strong is an established professional outdoor photographer. Her images grace collections all over the world and appear in many respected publications. She is passionate about hiking and is also an avid snowshoer and skier, exploring the outdoors of the East Kootenay in southeastern BC year round.
She openly shares her passion for the outdoors with others and has introduced hundreds of people to the joys of hiking. For a decade she led hikes for the City of Cranbrook – Parks and Recreation. With her guidance, many people have themselves become enthusiastic hikers.
Climbing mountains, finding new places and enjoying the experience of the journey have always been important to Janice. She cherishes the little things she sees along the trail, as well as the grand destinations.
When Janice is not writing, hiking or taking photographs, she is involved in various creative digital, website design or photographic projects for her clients. She and her husband, Jamie Levine, enjoy their rural property, near Cranbrook, BC.