Variable
Elevation Gain (m)
Tiger Pass is a satisfying destination on its own, but most people zoom by the flower meadows, small alpine tarns and great scenery for the prize. Shangri-la, more accurately described as the Upper Dunbar Lakes, is a series of turquoise-blue and opaque-jade coloured glacier lakes at the base of rugged summits and blue glaciers. Each lake is a different colour and opacity depending on their proximity to the glacier runoff. The half-dozen Shangri-la Lakes are surrounded by meadows and mature larch stands.
Days of explorations both at Tiger Pass and in the Shangri-la area can fulfill most hikers' desires for backcountry adventures and fabulous scenery. To reach the Shangri-la basin requires crossing a small glacier.
As we crossed the ice, we were roped to each other for safety. When we neared the edges of the glacier, we saw melting trickles of icewater lace the transition area between moraine and ice. These trickles merged into torrents that etched deep cracks into the ice. The water bored into the flank of the melting glacier and plunged into deep underground channels. You could hear the water scouring far below you in some of these abyssal creeks.
Before you race over into Shangri-la, stay and explore the south side of Tiger Pass for a relaxing day or so. There is a lot of moderate hiking and alpine to check out. The hike up the beige talus slope to Tiger Pass is a great hike for experienced hikers as the views are fabulous down into Shangri-la and south across the valley to Catamount Glacier (high above Thunderwater Lake).
Thunderwater Lake and tent with rock and ice around the shores. Photo by Ann Coulter.
æForster Creek, Horsethief Creek
Forster/Horsethief FS access roads for hikes:
Welsh Lakes,
Thunderwater Lake
Lake of the Hanging Glacier
Maps: 82K/9 Radium Hot Springs (NAD83); 82K/10 Howser Creek (NAD27)
Road map; also go to Chapter 4 for detail map of the access roads for Horsethief Creek and Forster Creek
In early season and very wet weather, the waterbars and deep muddy ruts of Forster Creek FS Road will need a 4-wheel drive. At other times in summer and autumn the road is suitable for a sturdy car if you go slowly over the waterbars.
For a swim after your hikes, there is a public sand beach on Windermere Lake at Invermere. Turn south to James Cabot Provincial Park at the stoplights in Athalmer (Invermere).
Access from Radium
Radium access is shorter than the Invermere access, with better roads and less time on gravel roads.
0 km: Radium turn west at the four-way stop and follow Main Street West downhill toward the sawmill.
500 m: Turn left onto Horsethief Creek FS Road (good gravel road).
4.3 km: Continue straight (avoid the right fork and many branch roads). Road gradually climbs up from the Columbia River.
10.5 km: Four-way junction with Westside Road (9 km sign). Continue straight onto signed Horsethief Creek FS Road, N05811-E60745.
Reset odometer to 0.
Access from Invermere
Invermere route to Forester/Horsethief is a rougher road than from Radium, with more curves and longer on gravel.
0 km: Leave Highway 93/95, turn west toward Invermere. Drive downhill and cross Columbia River bridge.
2 km: Straight at stoplights (Athalmer), heading toward downtown Invermere.
2.4 km: Turn right (north) just before the top of the hill, at Panorama Resort/Wilmer Road.
3.8 km: Turn right to Wilmer and Westside Road, and cross Toby Creek bridge.
6.4 km: Turn right onto Westside Road and gravel.
16 km: Take left fork onto Horsethief FS Road, N05811-E60745. Junction of Westside Road and Horsethief Creek Road, (16 km sign).
Both Radium and Invermere access roads meet at junction of Westside Road and Horsethief Creek FS Road, continued below.
Reset odometer to 0.
Thunderwater Lake and tent with rock and ice around the shores. Photo by Ann Coulter.
Lake of the Hanging Glacier in autumn.
Forster Creek for Thunderwater Lake and Welsh Lakes
Road directions continued from Access from Invermere
Road: High-clearance.
0 km: At four-way junction of Westside Road and Horsethief Creek Road.
4.3 km: At 13 km sign, N04455-E57481, turn right (uphill) onto Forester Creek Road for Welsh Lakes and Thunderwater Lake (north) onto Forster/Horsethief FS Road.
9.4 km: Stay right at watershed sign for Radium water supply.
10.2 km: Take left fork, staying on Forster/Horsethief FS Road (18 km sign). (Avoid the right fork onto Horsethief/Dogleg FS Road.)
27.4 km: At 36 km sign, continue straight for Thunderwater Lake; see below, N10423-E39030. For Welsh Lakes turn left off Forster Creek Road (trailhead sign) onto a small dirt road. In 100 m there are two clearings in the trees. Lower parking and a spot for a tent. Continue up this road only if you have a high-clearance 4x4. The small, steep and rocky road gains another 152 m (500 ft.) in 1.5 km up the sidehill to the main parking spot. This last part of the road deteriorates and there is nowhere to turn around until you reach the parking spot.
28.9 km: The small Welsh Lakes parking spot by Welsh Creek.
27.4 km: For Thunderwater Lake, continue driving on the main Forster FS Road heading west for another 6 km.
33.4 km: End of Forster Creek FS Road (42 km sign), N11630-E34851, at 1670 m (5,500 ft.); parking for Thunderwater.
Welsh Lake Map
Horsethief Creek FS Road for Lake of the Hanging Glacier
Road directions continued from Access from Invermere
Road: High-clearance for final 2 km.
0 km: At four-way junction of Westside Road and Horsethief Creek Road (9 km sign) continue straight (west).
4.3 km: At 13 km sign, N04455-E57481, continue straight on the main Horsethief FS Road. From 18 km to 23 km, the road is one lane and winding, with few passing spots. Watch for logging trucks. Be careful and drive slowly.
23.2 km: At Lake of the Hanging Glacier trail sign, take the right fork.
26.7 km: Continue straight at the snowmobile loading area (left fork MacDonald Creek logging road). After a while, the road is little more than a lonely bush track. Keep at it. Stay on Horsethief FS Road. You are not lost!
32.2 km: Take smaller, older road right fork (straight) to Lake of the Hanging Glacier (41 km sign). Avoid the left fork, a new, wide, steep logging road heading up Farnham Creek.
39 km: Horsethief FS Road descends steeply to a bridge crossing Horsethief Creek. It is worth a stop to peer down from the well-made bridge into the deep, narrow canyon. The road past this bridge has a few spots requiring a high-clearance, 2WD vehicle, but otherwise it is in good level condition.
41 km: Continue straight (39 km sign), avoiding right fork Stockdale Creek.
50 km: Continue straight (46 km sign). On left side of road is the Farnham Creek footbridge. Overnight camping at an FS recreation site (sign obscured).
51 km: Avalanche debris blocked road (49 km sign) in 2008. If road has since been repaired, drive to the end of it.
52.4 km: Trailhead sign with space for several vehicles and a campsite with outhouse and firepit (50 km sign), N93000-E29300.
There are several creeks to cross on the route to Thunderwater Lake. Gretchen has a tight hold on her little dog's leash as they cross the fast and icy cold water. Photo by Ann Coulter.æ Further explorations
Western Upper Tarn
The backcountry of Tiger Pass explorations begins at the top of the road. A primitive campsite awaits, and a sparkling tarn fed by numerous creeks edges onto a grassy meadow that greets visitors at the southern slopes of Tiger Pass. Wildflowers and a high alpine lake heighten the explorations of Tiger Pass.
Beyond the campsite, the road is closed, but by stepping across the creek and hiking the road you arrive at a small second tarn high in the alpine 2310 m (7,600 ft.). Alpine flowers and intriguing ancient Purcell rocky cliffs surround the small tarn.
This is not wilderness, however remote. There are mine diggings and some metal mine junk left around. The road was built to access workings on the Lead Queen claims decades ago, and miners still hold claims in the area. Mining roads slice into the cliffs high above the tarn.
Tiger Pass
From the campsite at the top of the road, hike north on a good trail up a gully. The trail bends right and heads steeply up through larch forests with a thundering creek on your left.
After gaining 120m (400 ft.) you come to a gently sloping meadow. The trail levels off a bit and traverses splendid alpine meadows. In summer the meadow sways with abundant wildflowers. The flowers bloom for only a few weeks in summer, and against the backdrop of ice and rock this place is worth enjoying.
From the meadows, hike north up through the stark basin of beige rock to Tiger Pass, N21000-E31300. The trail fades out in the rock and the rest of the hike is mountain routefinding up the loose talus to the pass. The slope faces south and it's a hot climb on the sun-heated rocks. Leave early in the day to avoid much of the sun's intensity.
Shangri-la
Routefinding and backcountry glacier travel skills are essential in this remote wilderness area. You must be experienced in glacier travel.
We were once camping in the Shangri-la basin during a typical summer drought with a campfire ban in effect. The weather forecast predicted more hot, dry, "stable" weather, but overnight a blizzard blew in and dumped 45 cm (18 in.) of sloppy wet snow where we had our tents set up. Brittle alpine larch trees crashed down all around us. The glacier-fed creeks overflowed their banks, and our exit from the high country was very treacherous. On one section of the route out we had to traverse the glacier in a whiteout. That was the first day of August!
The small glacier is crisscrossed with cracks and crevasses. Hikers should descend the ice carefully, as it can be very slippery on hot days and you may need crampons. Most people cross in groups that stay close together and angle their route to the left (northwest), as this avoids most of the cracks. Once off the ice, hike down onto the boulder slope toward the lakes.
Depending on the water level you may be able to cross on a stone "bridge" between the two largest lakes. Or, if the water is too high, you may have to arch your route left (west) around the first lake to camp on the meadows between the lakes.
The campsite is unestablished. Please practise no-impact camping. There is only limited firewood at this high elevation, and you should use it only as necessary. There are days of hiking around to the other lakes to enjoy, and Horeb Mountain frames the southern edge of the lakes. Springs splash over the meadows and the flowers bloom in unison during the few hot weeks of summer.
A popular scramble up Mount Ethelbert north of the lakes teases many hikers. That is beyond the scope of my descriptions; routefind and scramble up to your skill level.
Directions
Don't drive the last 5.2 km on Tiger Pass Road, not even in a high-clearance 4x4. Use an ATV.
The drive is about two hours from Highway 95 at Brisco (Brisco turnoff is about 26 km north of Radium).
Follow Bugaboo access roads, in the Bugaboos section earlier in this chapter, to Bugaboo Provincial Park and continue with the directions to Tiger Pass–Shangri-la.
The last 5.2 km on Tiger Pass Road gains 450 m (1,500 ft.). Use an ATV or walk it. Very narrow, rough, steep drop-offs, sloping sidehill, partially washed-out creek crossings. Many risk falling off the edge by driving their 4x4 trucks, and there is nowhere to turn around. Use this road at your own risk. It takes less than an hour and a half to walk it and about an hour of nerve-wracking potentially dangerous truck driving to negotiate it.
0 km: Highly recommended to park at the junction between Frances Creek Road and Tiger Pass Road (16 km sign), N18002-E33526, at 1610 m (5,300 ft.), and ride ATV or hike the final steep section. (Good parking spots are less than 100 m farther along Frances Creek FS Road.) Take prominent right fork (north) onto unsigned Tiger Pass Road.
5.2 km: Tiger Pass Road ends at a grassy meadow at the top of the road at 2190 m (7,200 ft.) elevation. There are several washed-out creeks to cross, sloping sidehill road surfaces, steep drop-offs and very tight switchbacks, so you may have to back up at least once to get around. Good campsite and scenic meadow, N19692-E31498.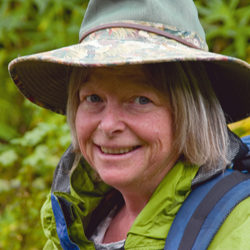 Janice Strong
Janice Strong is an established professional outdoor photographer. Her images grace collections all over the world and appear in many respected publications. She is passionate about hiking and is also an avid snowshoer and skier, exploring the outdoors of the East Kootenay in southeastern BC year round.
She openly shares her passion for the outdoors with others and has introduced hundreds of people to the joys of hiking. For a decade she led hikes for the City of Cranbrook – Parks and Recreation. With her guidance, many people have themselves become enthusiastic hikers.
Climbing mountains, finding new places and enjoying the experience of the journey have always been important to Janice. She cherishes the little things she sees along the trail, as well as the grand destinations.
When Janice is not writing, hiking or taking photographs, she is involved in various creative digital, website design or photographic projects for her clients. She and her husband, Jamie Levine, enjoy their rural property, near Cranbrook, BC.