The VOR tower (VHF Omni Range Aircraft Navigation tower) straddles the ridge between Perry Creek and Angus Creek. The service road to the tower provides access to an easy ridge walk on a road. There is no water along the VOR ridge walk, but it is a good beginner walk or a hot summer evening drive.
Follow the road/trail south from the tower over a semi-open ridge. The first 2 km of the road is rolling terrain offering fair views and easy hiking. Wildflowers bloom in July and August, and if there is no snow by mid-October, you can drive the road and see the western larch in their golden hues of autumn. Views through clearings between open stands of larch, subalpine fir and spruce are of the Rocky Mountains on the distant eastern horizon and the Rocky Mountain Trench. The Purcell Mountains are rolling and forested and are not high summits in this area. They appear as a patchwork of logging cutblocks and smooth slopes.
Directions
Road: fair; route may be confusing, with logging roads branching everywhere; high-clearance vehicle
If there are no new logging roads in the area, the route to the tower will be the main and well-used road. But new and active logging roads will change the access and it may be confusing.
0 km: Wycliffe Road and Perry Creek Road. Drive southwest on the Perry Creek FS Road.
13.3 km: Continue straight at the four-way intersection onto Sawmill Creek Road for VOR Tower, N88046-E70943. Left fork is Perry Main (11 km sign).
14.7 km: Turn right (just past 1 km sign) onto VOR Road (signed).
17.2 km: Stay to main road left fork (3 km sign).
21 km: Turn right uphill through logging.
21.2 km: Continue straight by taking the left fork onto an old road.
21.5 km: Continue straight by taking the left fork, which switchbacks.
22.5 km: Take left fork.
23.3 km: Cross under power line.
25.8 km: Park at ridgetop near VOR tower, 2311 m (7,583 ft.), N89400-E66000.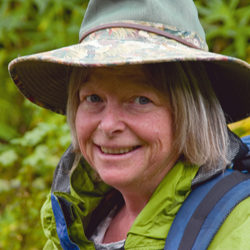 Janice Strong
Janice Strong is an established professional outdoor photographer. Her images grace collections all over the world and appear in many respected publications. She is passionate about hiking and is also an avid snowshoer and skier, exploring the outdoors of the East Kootenay in southeastern BC year round.
She openly shares her passion for the outdoors with others and has introduced hundreds of people to the joys of hiking. For a decade she led hikes for the City of Cranbrook – Parks and Recreation. With her guidance, many people have themselves become enthusiastic hikers.
Climbing mountains, finding new places and enjoying the experience of the journey have always been important to Janice. She cherishes the little things she sees along the trail, as well as the grand destinations.
When Janice is not writing, hiking or taking photographs, she is involved in various creative digital, website design or photographic projects for her clients. She and her husband, Jamie Levine, enjoy their rural property, near Cranbrook, BC.