Nominal
Elevation Gain (m)
If White Boar Lake Road is too rough for your vehicle, you can hike the short 3 km distance to the trailhead. This is not truly a hike, but a short 200-m walk.
White Boar Lake is pleasant and definitely worth a visit. This deep cirque lake rests below a sheer headwall of Mount McKay that has massive buttresses reaching at least 900 m (3,000 ft.) straight up from the crystal stillness of the lake. Mosses carpet this rocky cliff under which a small glacier hides from the sun. On hot summer days the glacier drops chunks of ice into the very cold, navy-blue water.
There is no trail around the lake. Since you can drive almost to the shore, you may want to bring a lightweight canoe or kayak. It is about 200 m downhill on a good path from the parking spot to the shore.
A primitive BC Forest Service campsite with a pit toilet and picnic table is located on the north shore.
Directions
Road map; see also the detailed map of the Meachen Creek, Perry Creek and Moyie River roads
Road: rocky, rough and narrow; 2WD high-clearance
Follow directions to Meachen Creek Road, with St. Mary, Dewar, Meachen and Redding creeks.
16 km: From St. Mary Lake Road – White Boar Lake turnoff (past 16 km sign), N90068-E46493, at 1330 m (4,360 ft.). Turn left (south) at White Boar Lake square-post sign. Drive up this rough, rocky, side road for 3 km, gaining 213 m (700 ft.), from Meachen Creek Road to a wide parking spot for lake access.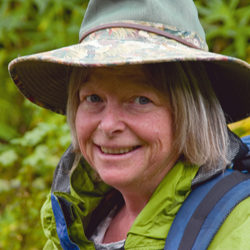 Janice Strong
Janice Strong is an established professional outdoor photographer. Her images grace collections all over the world and appear in many respected publications. She is passionate about hiking and is also an avid snowshoer and skier, exploring the outdoors of the East Kootenay in southeastern BC year round.
She openly shares her passion for the outdoors with others and has introduced hundreds of people to the joys of hiking. For a decade she led hikes for the City of Cranbrook – Parks and Recreation. With her guidance, many people have themselves become enthusiastic hikers.
Climbing mountains, finding new places and enjoying the experience of the journey have always been important to Janice. She cherishes the little things she sees along the trail, as well as the grand destinations.
When Janice is not writing, hiking or taking photographs, she is involved in various creative digital, website design or photographic projects for her clients. She and her husband, Jamie Levine, enjoy their rural property, near Cranbrook, BC.