Kettle Lake is a deep, spring-fed pond just north from the parking spot. A 1-km trail circles the lake. There is good wildlife-viewing at the lake.
For Windy Bluff, hike or bike southeast from the Kettle Lake parking area, up a steep single-track trail in the forest to the viewpoint above Cranbrook and the ponds of the Community Forest. Make it a loop by heading south from the Bluff on a trail and then west to Four Lakes and north to the parking area.
Windy Bluff in the Cranbrook Community Forest offers a viewpoint over the city of Cranbrook and views down to the lakes of the community forest below. It is a nice, short, but steep hike or bike ride.
Directions
Road: regular car, but rocky, bumpy road; open late spring and summer; gate closed some of the year to protect wetlands from off-road drivers
Please report off-road driving, with details and vehicle licence numbers, to the RCMP or the Ministry of Forests in Cranbrook.
In Cranbrook, take Cranbrook Street north to just before the overpass on Highway 3/95.
0 km: Turn right (east) onto 30th Avenue N., then immediately left onto a small paved road heading north parallel to the highway. When this small parallel road forks, take the left fork. (The right fork heads into the fenced compound of the Cranbrook Forest Service Southeast Fire Centre yard.)
200 m: At another fork, take the right-hand fork up to a yellow gate. If the gate is open, drive uphill into the community forest. (The left fork leads to parking for Isadore Canyon trail, also nice for biking.)
2.1 km: At a T-junction for Kettle Lake and Windy Bluff, continue straight. (The right-hand fork at the T heads south to the small ponds of Sylvan Lake and Four Lakes.)
2.6 km: Kettle Lake parking. The trail for Windy Bluff is on the south side of the parking lot.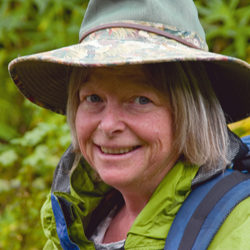 Janice Strong
Janice Strong is an established professional outdoor photographer. Her images grace collections all over the world and appear in many respected publications. She is passionate about hiking and is also an avid snowshoer and skier, exploring the outdoors of the East Kootenay in southeastern BC year round.
She openly shares her passion for the outdoors with others and has introduced hundreds of people to the joys of hiking. For a decade she led hikes for the City of Cranbrook – Parks and Recreation. With her guidance, many people have themselves become enthusiastic hikers.
Climbing mountains, finding new places and enjoying the experience of the journey have always been important to Janice. She cherishes the little things she sees along the trail, as well as the grand destinations.
When Janice is not writing, hiking or taking photographs, she is involved in various creative digital, website design or photographic projects for her clients. She and her husband, Jamie Levine, enjoy their rural property, near Cranbrook, BC.