Nominal
Elevation Gain (m)
Trail meadows, wildflowers, ponderosa pine forest, Douglas fir rolling hills and kilometres of roads lace the dry rangeland. There may be cattle grazing during summer. Best to go in spring or fall, when the cattle are not there. The best flowers are during April and May, before the cattle are moved onto the land.
Trail
0 km: Hike north on a small dirt road directly opposite from Sommerfeldt Road. In April and May these meadows are brimming with many species of low elevation wildflowers, western anemone, yellow bells, balsamroot, bitter root, lupines, arnica and larkspur. Many old roads meander across the area. Some offer views, others flowers, and all are worth exploring.
1 km: Road bends to the left (southwest).
1.3 km: Road angles to the right (north) and squeezes through a gully.
2.6 km: Ponderosa pine stand with grassland between the tall trunks and wispy needles. In late May the vibrant yellow balsamroot sunflowers brighten the forest floor. Some roads head right, bending south to make a loop hike.
Directions
Drive
0 km: Between Cranbrook and Kimberley on Highway 95A, turn north onto Airport Road.
2.2 km: From Airport Road, turn left (west) onto Wycliffe Road.
3.6 km: Junction of Sommerfeldt Road and Wycliffe Road. Park along the country roads.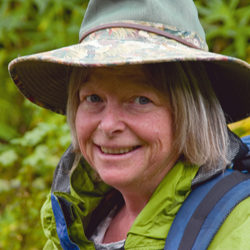 Janice Strong
Janice Strong is an established professional outdoor photographer. Her images grace collections all over the world and appear in many respected publications. She is passionate about hiking and is also an avid snowshoer and skier, exploring the outdoors of the East Kootenay in southeastern BC year round.
She openly shares her passion for the outdoors with others and has introduced hundreds of people to the joys of hiking. For a decade she led hikes for the City of Cranbrook – Parks and Recreation. With her guidance, many people have themselves become enthusiastic hikers.
Climbing mountains, finding new places and enjoying the experience of the journey have always been important to Janice. She cherishes the little things she sees along the trail, as well as the grand destinations.
When Janice is not writing, hiking or taking photographs, she is involved in various creative digital, website design or photographic projects for her clients. She and her husband, Jamie Levine, enjoy their rural property, near Cranbrook, BC.